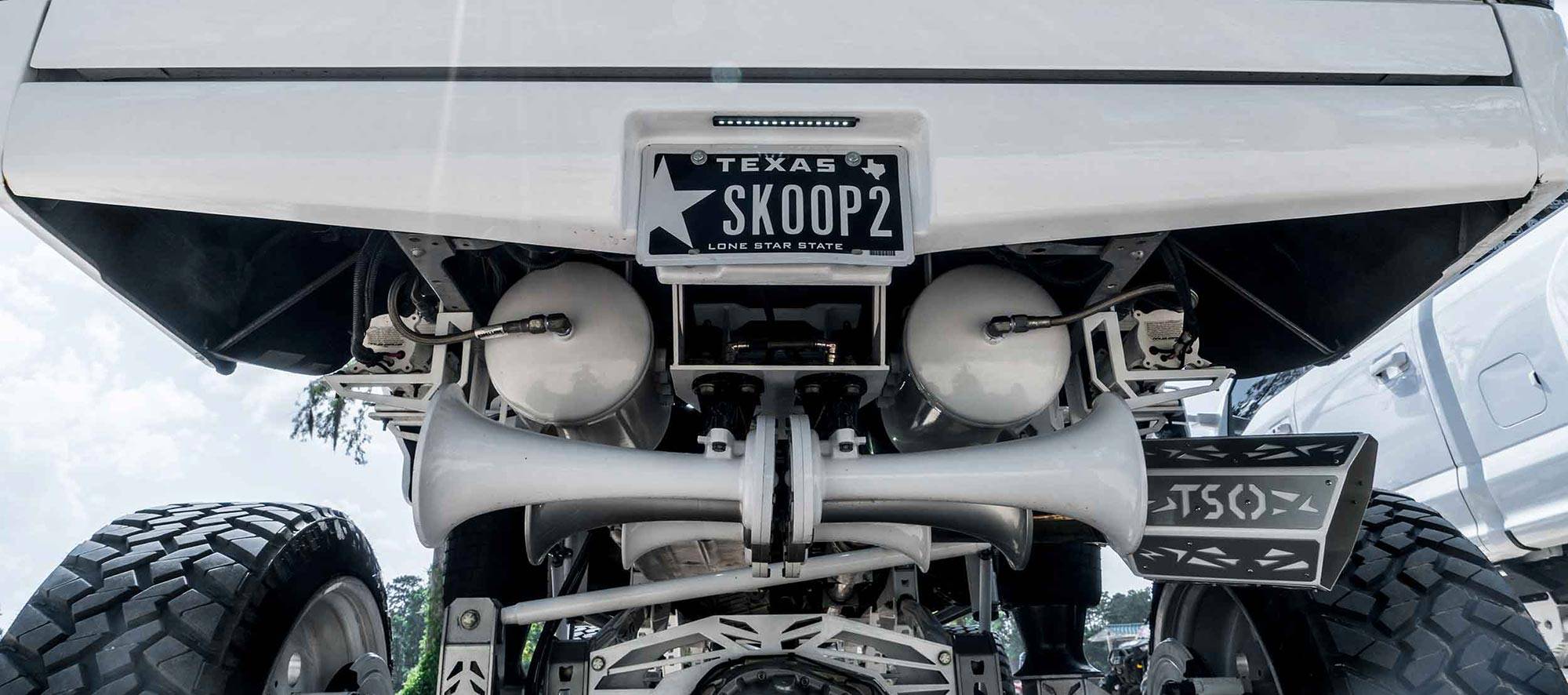 EVERYTHING YOU NEED TO KNOW ABOUT THE LEGENDARY NATHAN AIRCHIME TRAIN HORNS!
There are a ton of horns that claim to be train horns out there, but there is no other horn out there that has the history, the size and the VOLUME of a Nathan Airchime Train Horn. The Train Horn of choice by railroad companies for decades, trusted to keep their conductors and their haul safe, is now available to install on your ride! Learn about the history, manufacturing process and modern applications for the classic Nathan Airchime series Train Horns, the loudest Train Horns you can buy!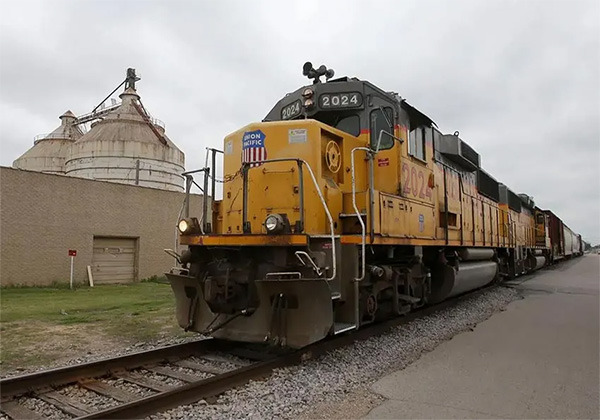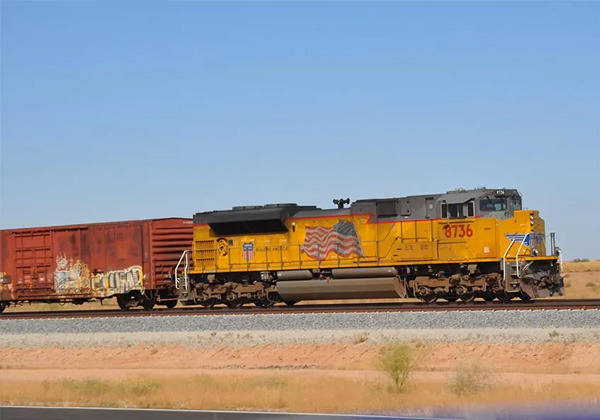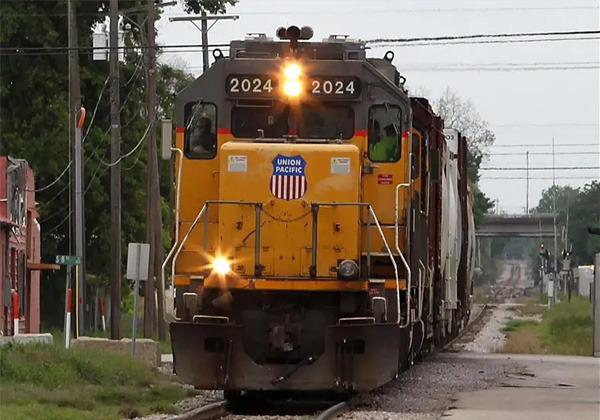 "WHAT IS YOUR LOUDEST TRAIN HORN?"
Hands down, the most asked question we get. You know when you get a HornBlasters Train Horn Kit, you are getting the loudest horns you can buy, but who is the top dog out of them all?
The Nathan K5LA beat out any other horn, both at close range and 100 meters away. Quite a few of our horns come close (our Shocker Train Horns are only 1.7 dB off), but nothing has been able to beat the Nathans Airchime Train Horns.
With authentic train horns like the Nathan AirChime Horns, you not only hear them, you FEEL them. There really is no substitute for the real thing. There are plenty of pretenders to the throne out there that will advertise all kinds of decibel ratings (there is no such thing as a 200 dB train horn, especially one for $60) and tell you that their horns are the loudest you have ever heard, but unless you can roll up to a railroad stop and battle the train, all you are getting is a cheap imitation.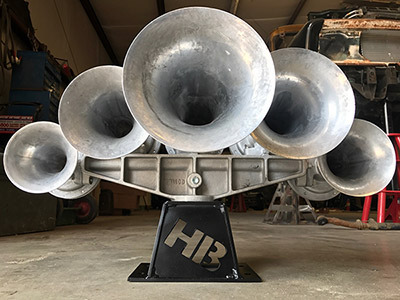 Other than the gargantuan volume and power, the main difference between Nathan AirChime Train Horns and any other is the rich history and character these horns have. Does your horn have a backstory? Every Nathan AirChime Train Horn that we sell has been tried and tested on real locomotives for years before they end up being installed on your vehicle. When you purchase a Nathan AirChime Train Horn, you are buying a piece of history. What other horn do you know of is tested for years out in the sleet, snow, and rain before you purchase it?
Nathan Airchime Train Horns were designed and manufactured to last for decades on trains that are constantly out in the elements all over North America. That means they are trusted to work each and every time, night and day, rain or shine. If you are making the investment into a train horn kit, why buy anything other than a household name that has been tried and tested for the past one hundred-fifty plus years?
That's right, we said one hundred-fifty plus years. Nathan AirChime Train Horns have been ruling the rails for longer than any of us have been alive. Nathan Manufacturing Company was established in New York in 1864. In 1953, the Airchime Truck Horn was modified to be used on locomotives. The end result was the very first P-style Train Horns, also known as "The President's Whistle". The Nathan AirChime P-Horn took the rails by storm with its incredible volume, lower manufacturing cost, and little-to-no maintenance. The P-Horn has gone through many different changes over the years, with the three-chime P3 and the five-chime P5 being the most commonly seen today.
Shortly after the P-Horn's introduction, the K- series horns made their debut in 1954. The K-Horn originally had a higher pitch than the P-horns and came in three chimes and five chime versions named the K3H and the K5H, respectively.
Back then, the "H" stood for "High Pitch", though nowadays the "H" stands for "High Bracket" with the K5L having the 'L" designator to indicate a "Low Bracket" style. Robert Swanson, who had designed both horns believed the K-Horn to be the superior horn, the P-Horn being the cheaper alternative.
In the 1970s, Amtrak wanted to bring the classic K-Horn to America's rails. While they loved the overall sound, they decided they wanted American train horns to be lower in pitch, altering the K5H from it's original D# minor 6th chord to a much brighter and cheerier B Major 6th. Around the same time, AirChime had designed a new low profile bracket to mount the horns on. With the new tuning and lower bracket, the K5LA was born, the "L" standing for "Low Bracket" and the "A" to designate American tuning. By the 1980s, the K5LA was the most popular horn used around the world and remains so to this day.
For any horn, but especially train horns, the sound of the horn is going to be determined by the quality of materials and the craftsmanship in the manufacturing process. The manufacturing process for both the K-Horns and the P-Horns affect how they sound immensely. The Nathan AirChime P3 and P5 train Horns are made with a sand-casting process. The sand-casting process is what is responsible for the P-Horn's classic mellow tone.
The K-Horns were originally made with a sand-casting process as well but has since changed to a die-casting process. The die-casting process gave the K-Horns the more aggressive and punchy sound that they are known for. Both horns are made with stainless steel diaphragms to protect against rust and help keep the horns honking for decades while requiring little to no maintenance.
As mentioned before, the current Nathan AirChime K5 Horns come in two options: The K5LA and the K5HA. The K5LA is the most popular version that we sell. With its much lower profile than the K5HA, its a great match for train horn kits for vehicles, as it tends to be easier to install. While the manifolds do affect how the horns look, they do not affect the sound and it really comes down to personal preference on which on to get.
For massive train horns such as the Nathan AirChimes, you can't just hook them up to just any onboard air system. These beasts go through much more air than any other type of horn and even other train horns, but that is the price you pay for the loudest horns available! To get the most out of your Nathan AirChime Train Horns, you are going to need at least a 5-gallon tank with a compressor that is powerful enough to maintain 150 PSI in that tank.
Luckily, we did all the research to bring you a few pre-made kits that are optimized to be used with the Nathan Airchimes. With these kits, we take all the guesswork out of it, giving you everything you need to get up and going.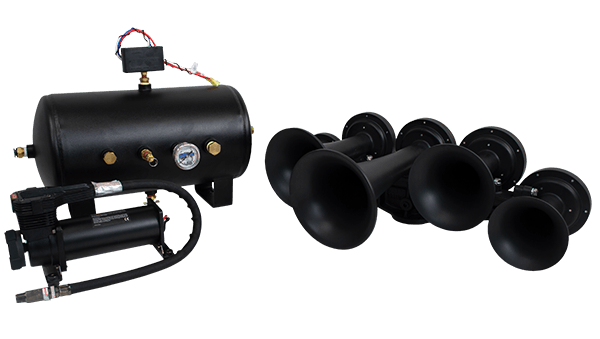 NATHAN AIRCHIME K5LA 5485K TRAIN HORN KIT
Starting out the list with the best of the best, the Nathan AirChime K5LA 5485K Nightmare Edition Train Horn Kit is absolutely the best pre-made train horn kit that we sell. In addition to the monstrous K5LA Train Horns, this features Viair's latest and greatest air compressor, the Viair 485C Stealth Black Air Compressor. This kit can run up to 200 PSI with a constant duty cycle, meaning in addition to running train horns, you can support tire inflation, air tools and pretty much any other task you would need mobile air for. With a kit this size, you can get a solid 5 seconds of continuous blast time out of your Nathan Airchimes.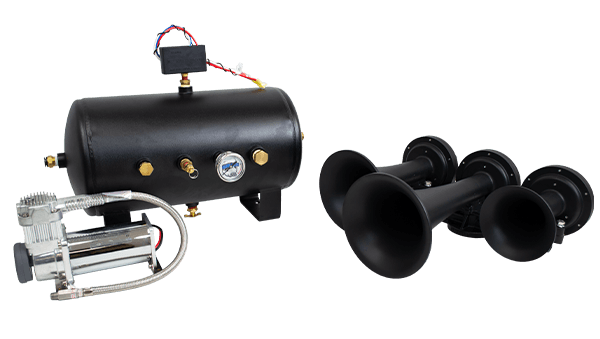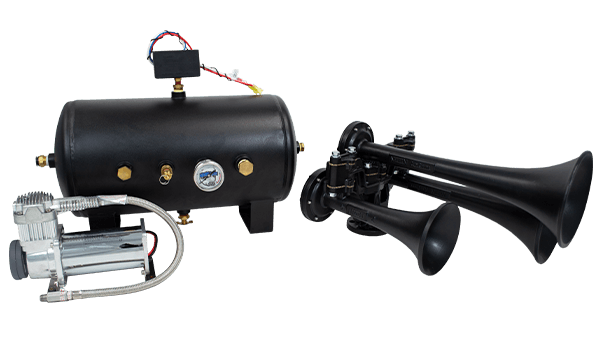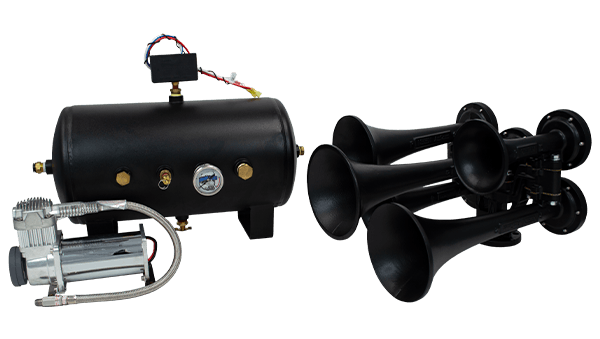 These kits are also available for the P-Series Train Horns as well. While these pre-made kits are an easy way to get going, you don't have to stop there! We have seen customers set up their Nathans with insane onboard air systems. At our first-ever Train Horn Competition at Daytona Truck Week this year, Jake Dudley (@jdudley_113) took home 1st place with a jaw-dropping minute-long blast coming out of THREE different Nathan AirChime Train Horns (K5LLA, K5H & a P5A) with a 50-gallon tank! Your train horn set-up is only limited by your imagination. 5-gallon to 50-gallon, single compressors or ten, the sky is the limit!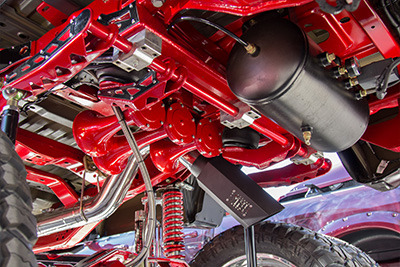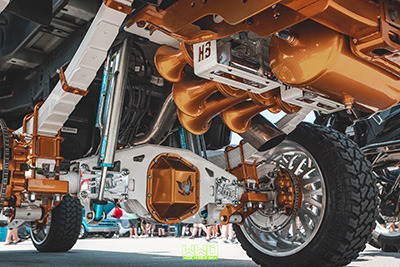 AIN'T NOTHING LIKE THE REAL THING
Sure, there are plenty of train horns that look and sound like the Nathan Airchime Train Horns, but there are no train horns out there exactly like the Nathans. When you purchase a Nathan Airchime Train Horns you are purchasing a part of history. Each horn with its own story. Some people even collect different horns from different time periods. While any train horn kit is an investment, Nathan Airchime Train Horns are on a whole different level. History aside, you won't find a more imposing looking or sounding horn out there. The Nathan AirChime Train Horn has been king for decades and continues to reign supreme.
---