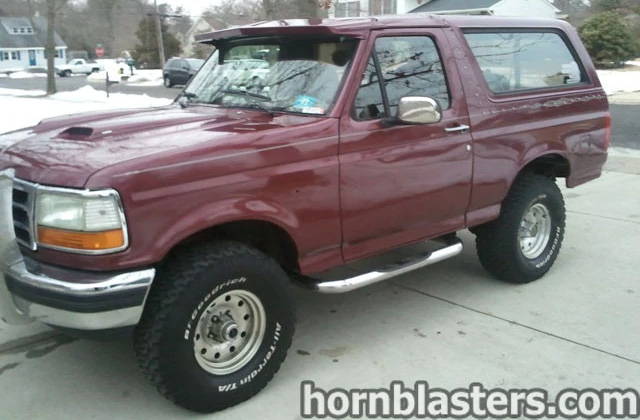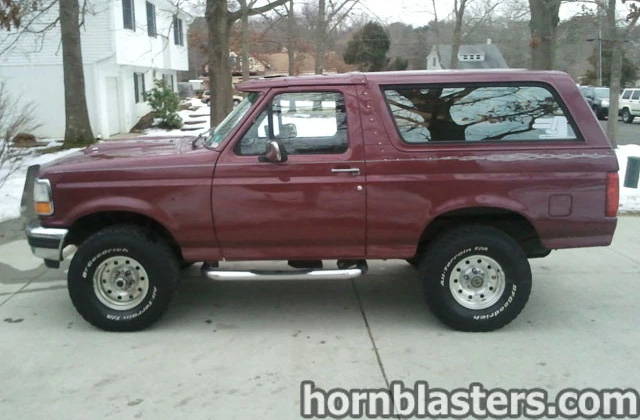 This is Matt's 1996 Ford Bronco and it features our Conductor's Special 540 train horn kit. Installed in the rear underneath the vehicle, you will find our Shocker XL train horns that are featured in this kit. Then installed in the cargo area is the HornAir 540 onboard air system. This onboard air system includes a 5-gallon air tank and Viair's fast fill 400C air compressor. The 5-gallon tank in this kit provides the horns with roughly 8-10 seconds of honk time. And the fast fill 400C can recover the tank in about 1 minute and 40 seconds!
WORDS FROM THE OWNER
My name is Matt. I live in Southern, New Jersey and I installed the HornBlasters Conductor's Special 540 train horn kit on my 96 Ford Bronco Eddie Bauer. The installation went very smoothly, and was completed in about 6 hours(first time installing). If you want attention, your going to get it! This kit has been the best investment I have made for my truck by far. From the Ordering process, to the 24 hour tech support. To the product quality, to the final installation. Overall it was the best experience with a company I ever had over the phone. If you want outstanding service and products worth the money, HornBlasters is the way to go!
CONDUCTOR'S SPECIAL SOUND SAMPLE: