HORNBLASTERS STDDK PRODUCT INSTALL IN DIESEL TECH MAGAZINE
Below you will find our take on an article written by Diesel Tech Magazine on our Spare Tire Dual Tank Delete kit install. Defiant Motorsports did us the honor by getting this system installed on this 2015 GMC 2500HD. You can find the link to the original article HERE or by clicking their logo above. Enjoy!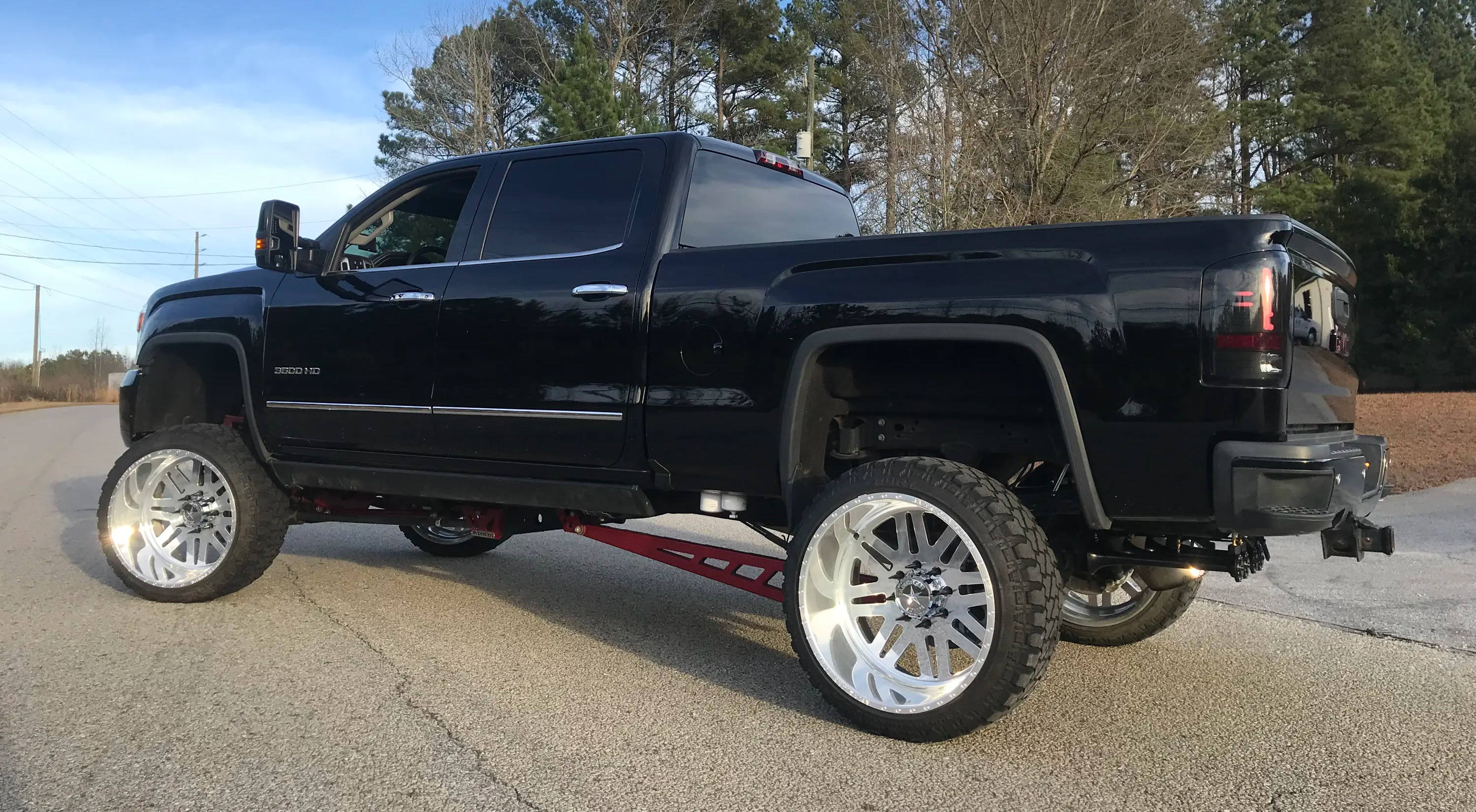 PRODUCT INSTALL HORNBLASTERS AIR HORN
In this article, Diesel Tech magazine breaks down the install of our Conductor's Special 2485K dual tank Spare Tire Delete kit (as you may have seen on the internet or social media). Our Spare Tire Delete kits are becoming a growing trend in the automotive industry. Sometimes you want to be able to have a voice on the road. One way to make sure of that is with one of our HornBlasters train horn kits. The editors at Diesel Tech magazine caught up with us to check out the options that we have available for an easy and quick install.
With the Spare Tire Delete kit becoming so popular we knew that we had something special to offer. Full-size custom trucks are ditching their factory spare tire to replace it with this all-in-one mounting solution. It utilizes the factory spare tire crank to lift and secure the bracket up into place. This lets you mount a fully functional onboard air system and a loud train horn in the space of the spare tire well. The Spare Tire Delete kit has made the installation for our Conductor's Special kits 232-2485K quicker and easier than ever. Using some basic hand tools and basic wiring skills, the customer can have it installed and ready to go in about 3 hours. The kit ships complete with hardware, wiring, and detailed instructions, making this a complete and ready to go package.
Recently at the 2019 SEMA show we released our dual tank Spare Tire Delete kit. Giving you the ability to have double the air volume, going from 2-gallons to 4-gallons. This not only doubles your honk time, but gives you the extra air volume you need to air up a tire or use an air tool. This kit features our insanely loud, american-made, and hand-tuned to perfection Shocker XL train horns. Alongside two 2-gallon air tanks and Viair's new top-of-the-line 485C air compressor.
As Diesel Tech magazine mentions in their article, HornBlasters carries more than just train horns and air horn kits. We carry air suspension accessories/parts, marine horns, specialty horns, novelty horns, public address systems and many other pneumatic related products. On top of carrying top of the line brands such as Viair, Oasis, Air Zenith, Air Lift, Slam Specialties, Firestone, and SMC.
Our Conductor's Special 2485K Train Horn Kit with Dual Tank Spare Tire Delete Bracket retails starting at $1643.98.
The installation below was performed by:

Graham Adams, owner of
Defiant Motorsports
805 L and P Pkwy
Monroe, GA 30655
(770) 267-0499
www.defiantmotorsports.com
sales@defiantms.com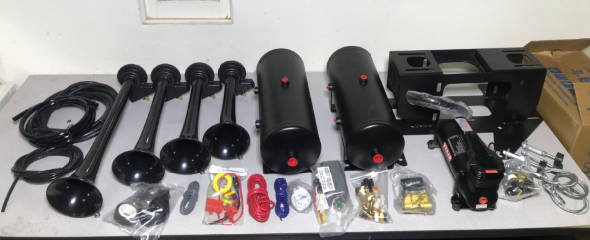 1. Conductor's Special 2485K STDDK ships complete with all components, hardware, wire, and instructions. It is suggested for you to lay all parts out beforehand to become familiar with the system.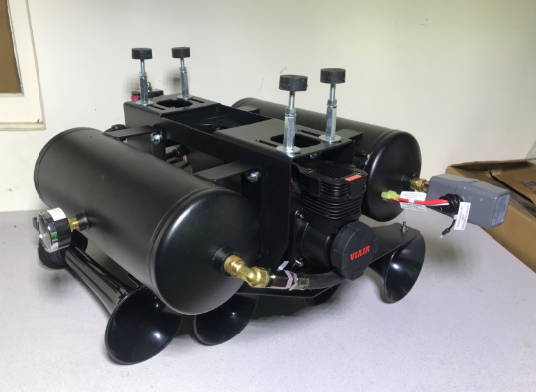 2. It takes approximately 1-2 hours to assemble the horn kit to the delete bracket using standard hand tools. A main advantage of this system is you can easily assemble everything in a comfortable workspace and not while laying under the vehicle.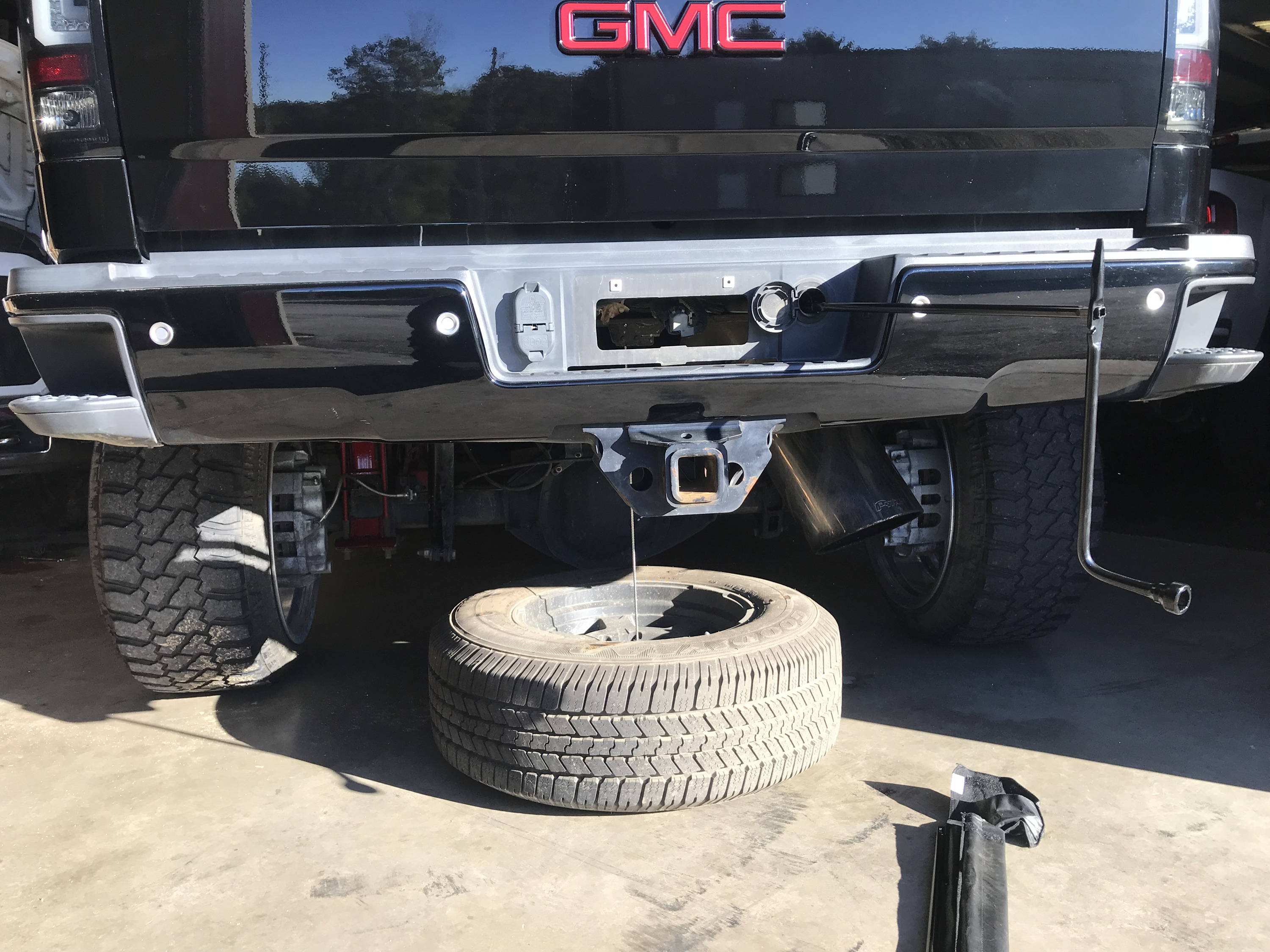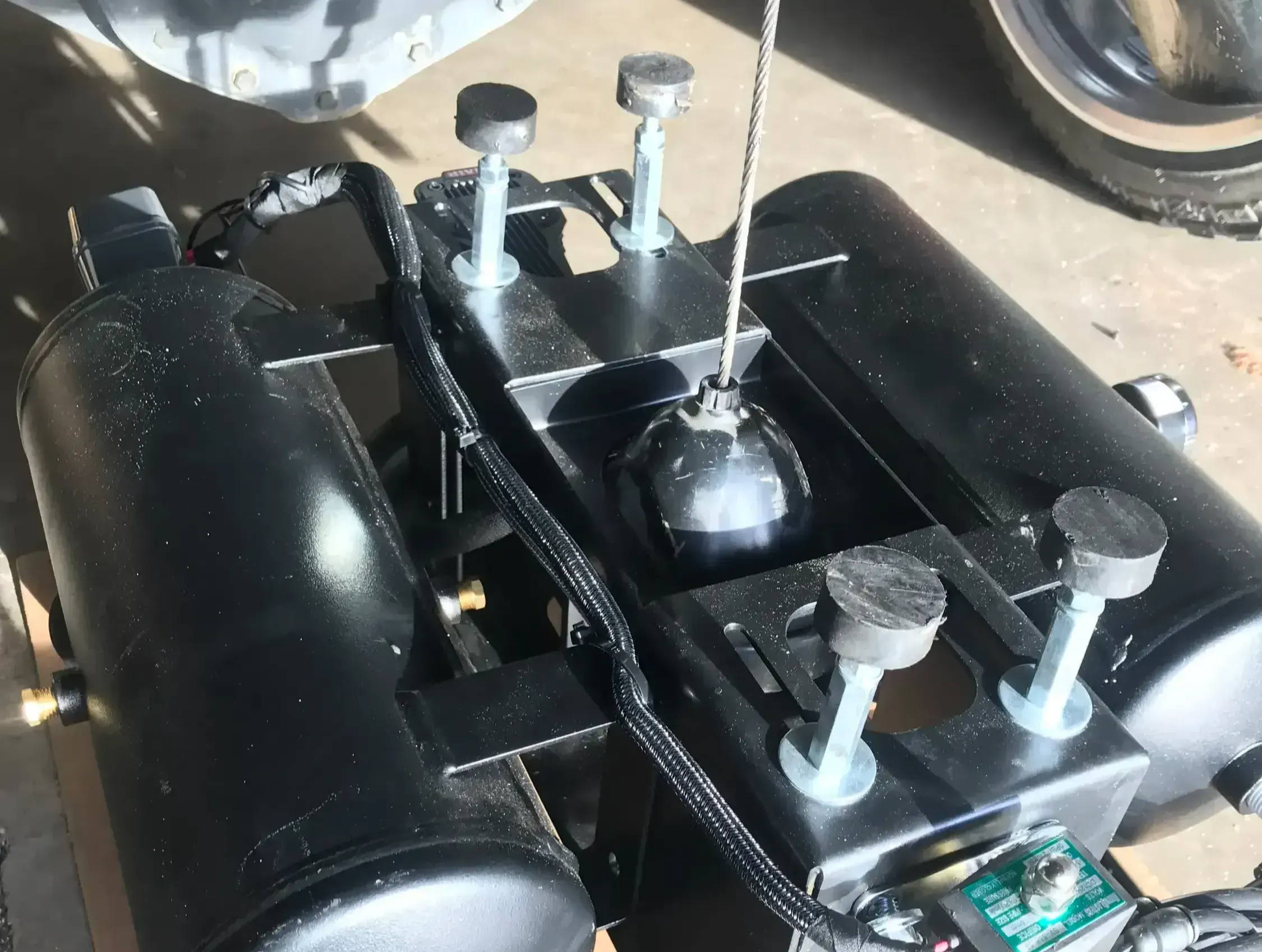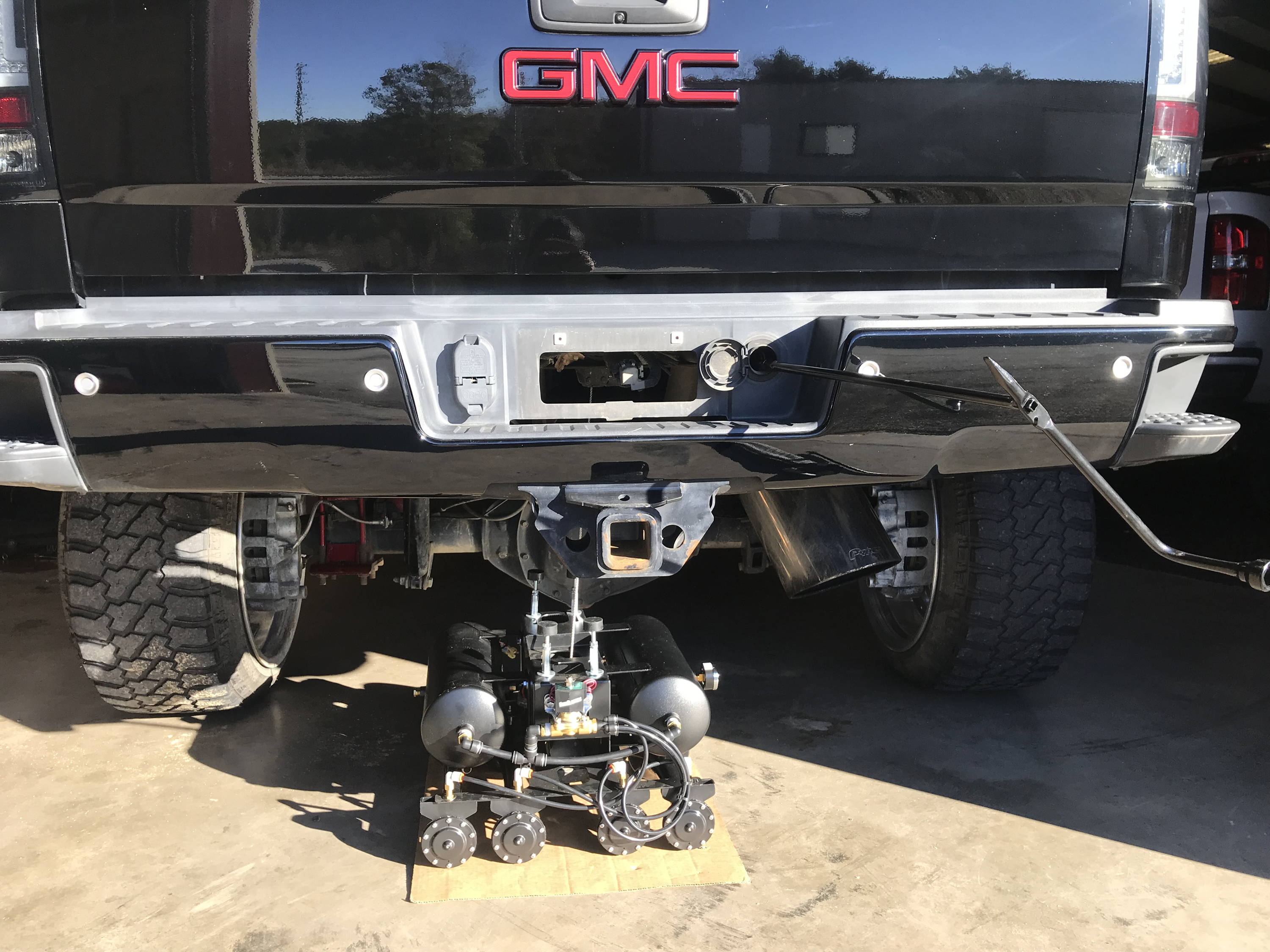 3. Once you lower the truck's factory spare tire and move it out of the way, the HornBlasters kit can be placed directly under the truck's spare tire hanger and the metal hangar that held the spare tire can be used to pick up STDDK.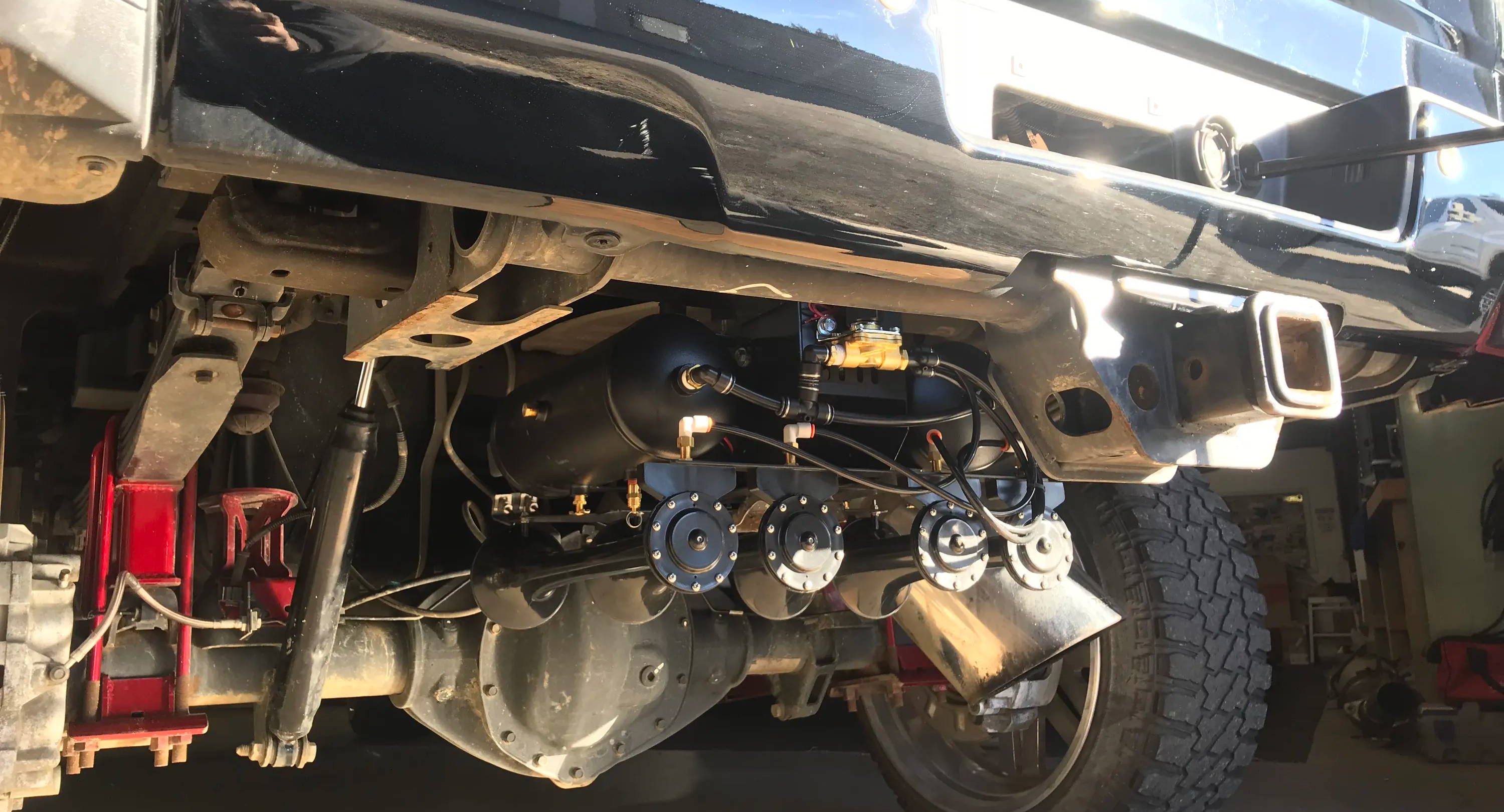 4. Reel the STDDK up into place until it touches the bottom of the truck and secure with included rubber isolators and stainless steel safety cables. HornBlasters train horns are so loud you can hear them all the way around your vehicle. So you can face the STDDK in any direction, but most people point them forward which is the direction of travel.
5. Once in place, the horn kit needs to be wired to the truck. HornBlasters includes the parts needed and provides wiring instructions with a diagram. This wiring process also takes approx 1-2 hours.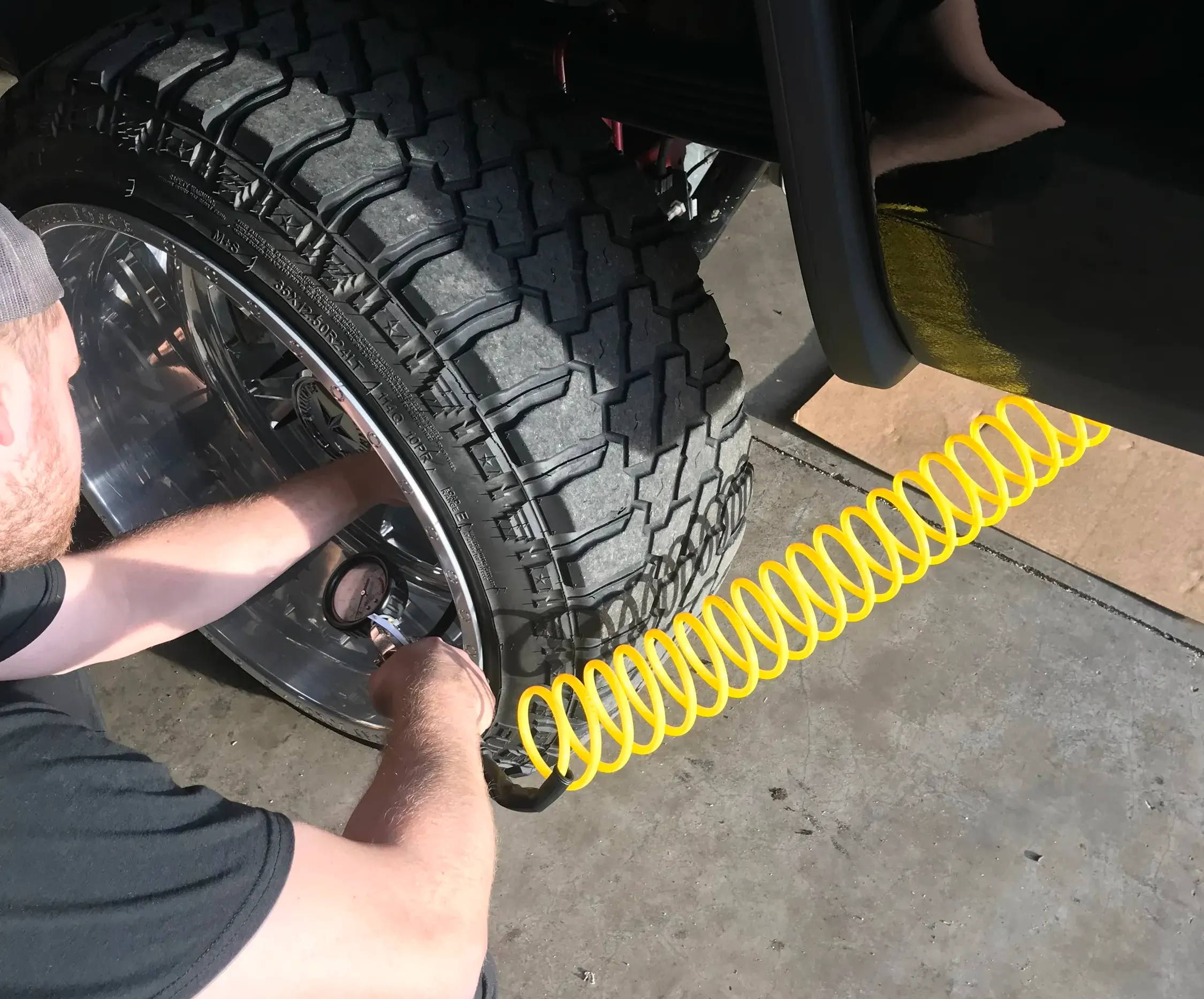 6. An available and useful option for these kits is the ability to also use the STDDK as a fully capable on-board air system. While many customers would say train horns are a practical addition to their trucks, having an air source unit on your vehicle can be useful to fill tires, run pneumatic tools, engage air lockers, inflate beach toys, etc...
7. Finished! Once installed, you'll be able use your factory steering wheel horn button to honk your new train horn! HornBlasters provides you with instructions and a switch so you can turn the train horn off (and on) when needed.
After some fresh powdercoat, this is the same vehicle above just with a shiny new twist. The gold really makes the suspension and the Spare Tire Delete Kit pop!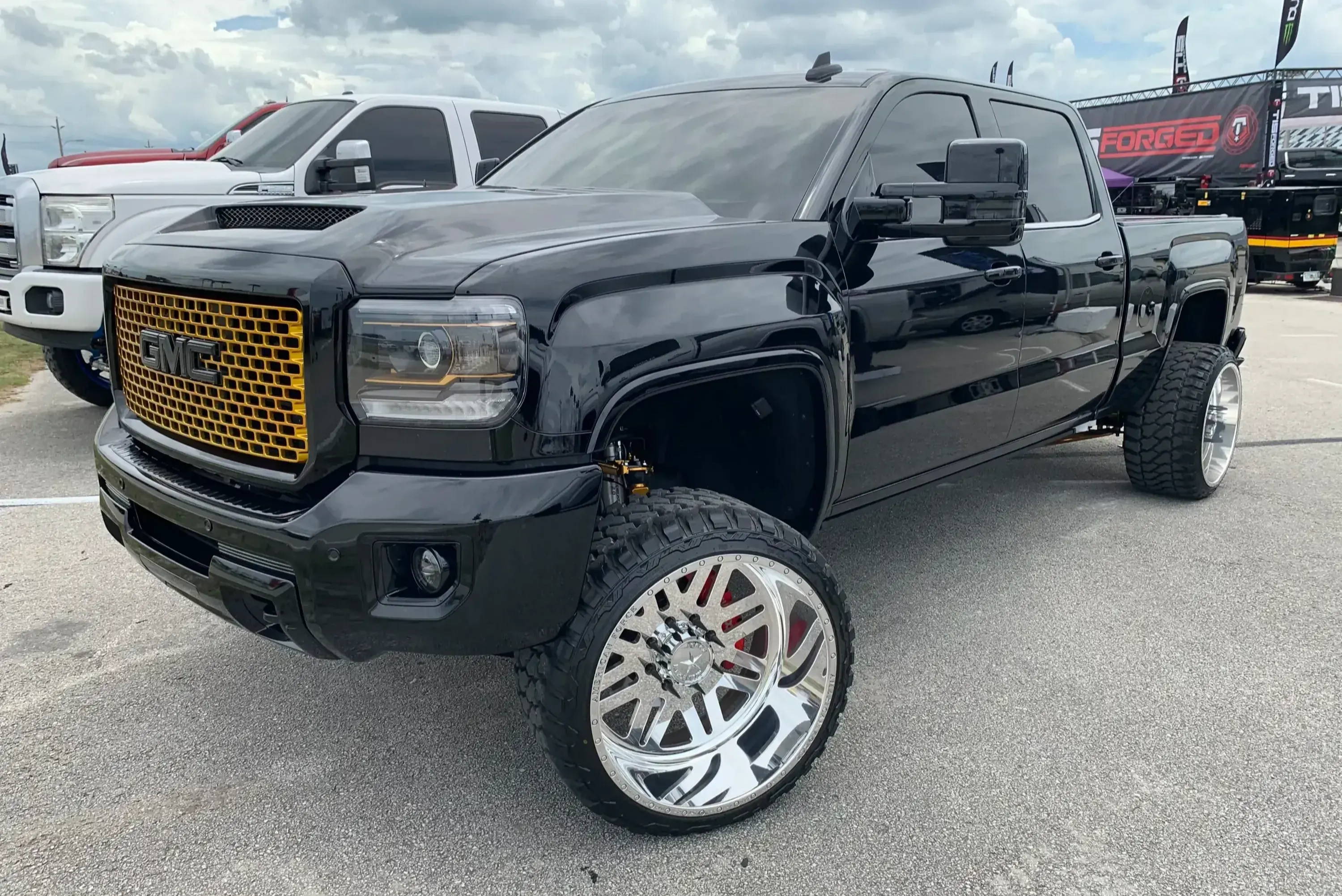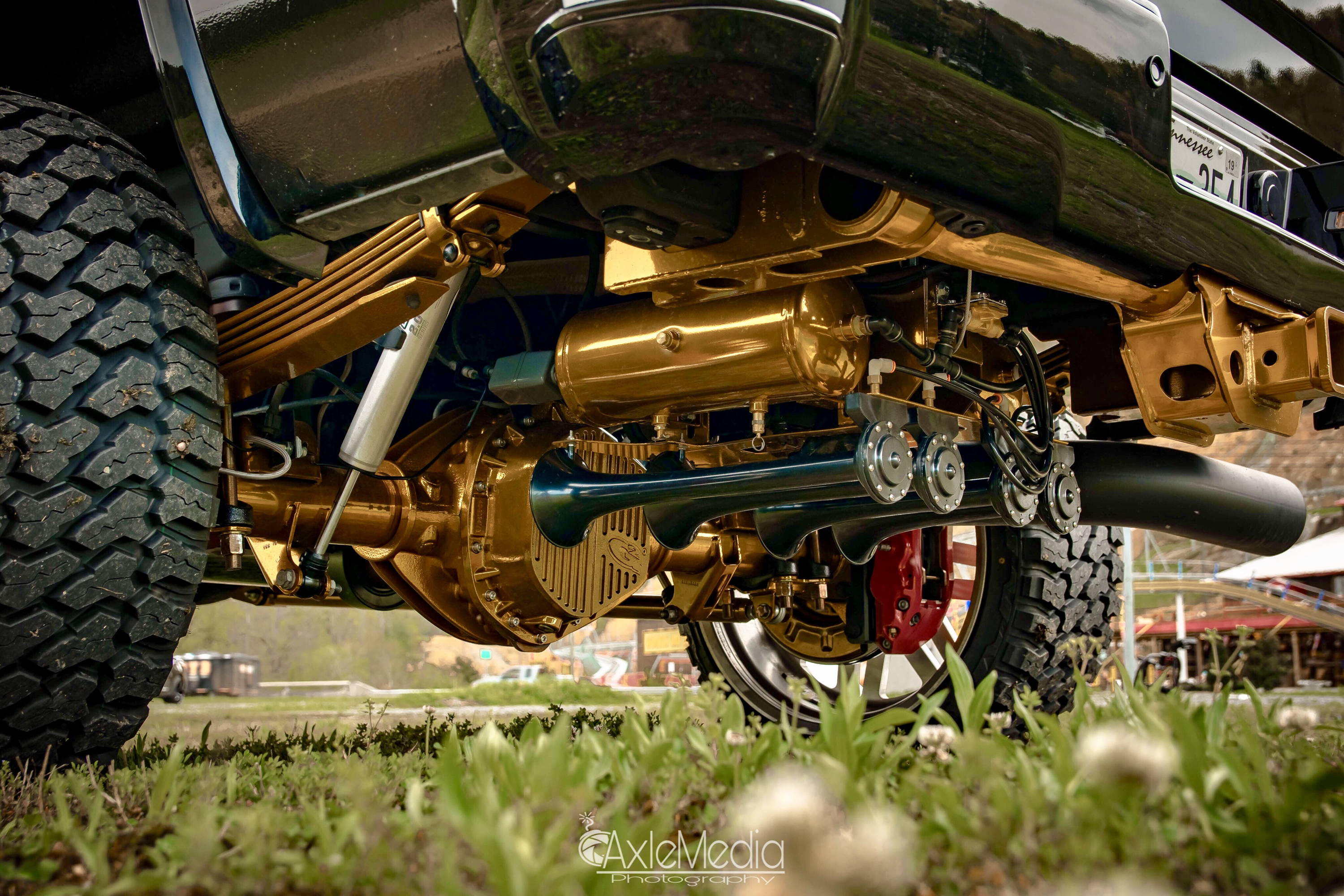 ---