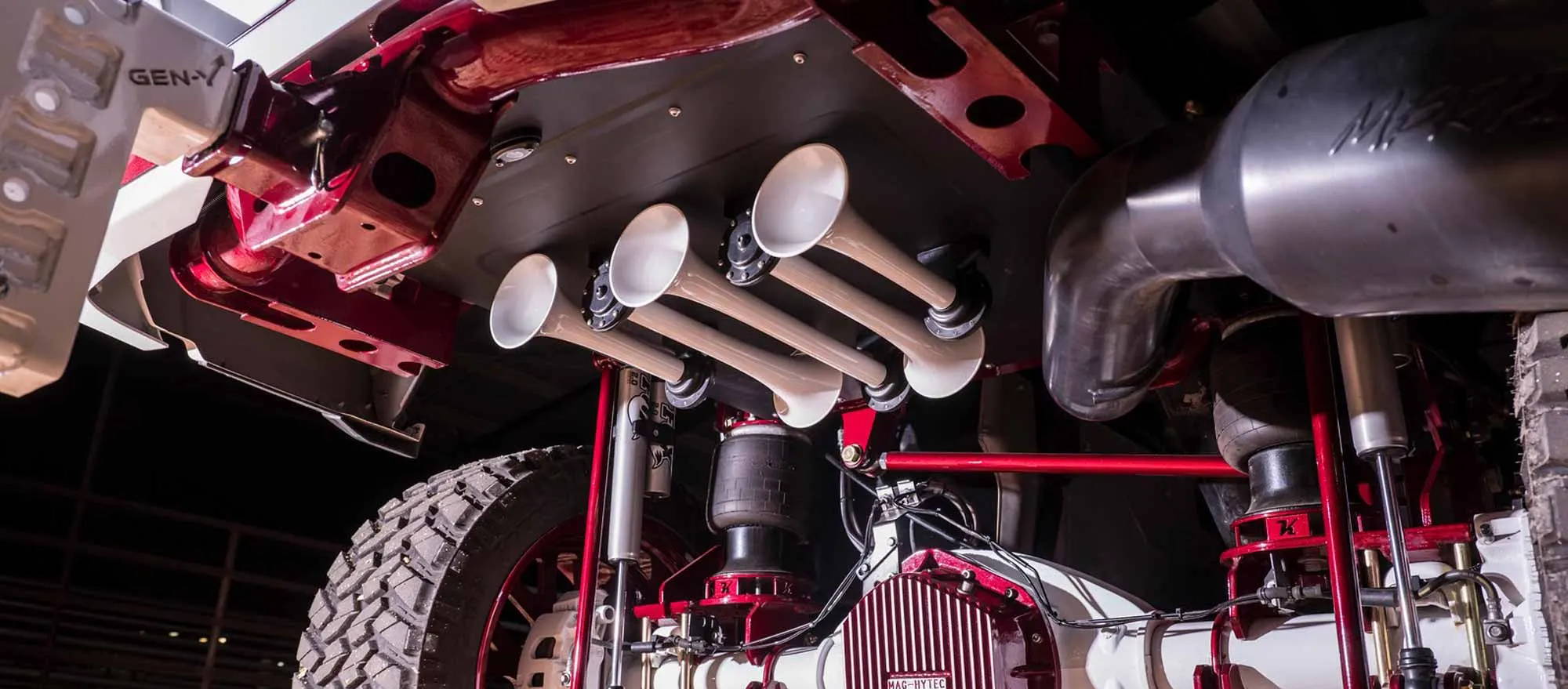 There has never been a better time to purchase a horn kit for your vehicle. Technology has improved immensely over the years, giving customers higher quality components and a greater selection of different kits than ever before. While you know you will be getting the best horn kit you can buy when you purchase a horn kit from HornBlasters, we understand that choosing the right kit for your vehicle and budget can be difficult with so many horns and kits to choose from. We're here to help you navigate through our vast selection to ensure that you choose the perfect kit for you.
6 TIPS FOR PICKING THE PERFECT HORN KIT:
Listen to the

Sound Samples

- All of our horns and horn kits have

sound samples

listed on their product page so you can hear exactly what they sound like. Make sure you like the way the horn sounds before you purchase it. As a rule of thumb, If you're looking for a higher pitched tone, you would be looking for an air horn. For a lower pitch, you would want a train horn.

Make sure to get an onboard air system suited for your needs - Are you going to be using your system to inflate tires or support air suspension? Are you only worried about using the horn? Both the size of your tank and compressor will determine what you can use your onboard air system

for. For just honking the horns, get a system with a fast-fill compressor, like the

Viair 400C

. For other pneumatic applications, make sure you get a constant duty compressor, like the

Viair 444C

or you can get the best of both worlds with the

Viair 485C.
How much air do you need?

The size of your air tank is going to determine your blast time, as well as give you more air for tire inflation, air suspension, etc. A good rule of thumb is: For each gallon of air, you get about two seconds of honk time for most horns. That means a 2-gallon air tank will give you about a 4 second honk time and a 5-gallon air tank will give you about 10 seconds. Just keep in mind that the big train horns like the Nathan AirChimes will use up a lot more air.

Make sure everything is going to fit - Not everyone has the room for an 8-gallon kit or huge train horns. Some air systems are able to be installed out in the elements, some are required to be installed away from dirt and moisture. You want to have a good idea of where you are going to install the system before you purchase. If you're not sure if a kit will fit or not, be sure to look at the specifications tab on the product page for that kit to get all the dimensions you will need to plan your install.
Make sure you buy a kit with high-quality components - If you are reading this, chances are you are thinking about going with a HornBlasters kit. Just in case you are looking around, make sure you know what you are getting. We use air compressors, known worldwide for their stellar quality and dependability. Look out for kits with small air line, We use ½ inch air line on most of our kits for optimal air flow. If you get a kit with small air line, chances are it's not going to be as loud as you expected. Don't buy kits with components that are not DOT approved. Just remember, you get what you pay for. There are no $60 kits that are 150 dB out there. If it's too good to be true, it probably is.

Give us a call - Still not sure what kit would be best for your vehicle? We love getting our customers outfitted with the best kit for their money. We have a team of train horn enthusiast that has the technical knowledge and experience with installing, using and maintaining train horn kits on our own ride. We are available to answer your questions by phone, email or chat on our site. Toll Free: +1 877-209-8179
THE PERFECT KIT FOR ANY BUDGET!
We've got you covered whether you want to out-blast a locomotive or just want to replace your wimpy stock horn. We carry horns ranging from under $100 to over $2000 with hundreds of different combinations in between. For someone just getting into train horns, this can be intimidating. We've chosen three of our most popular train horn kits and three of our most popular air horn kits at different price points to show you some examples from all price ranges.
TRAIN HORNS VS. AIR HORNS:
What's the difference between a "train horn" and an "air horn"? The main difference is that we call any horn that has low tones that are tuned to sound like a real locomotive, or close to it, a train horn. Any other horns that have higher pitches or unique sounds would fall into the "Air horns" category. With that being said, we will start by giving some examples of a range of our popular air horns.
TOP 3 AIR HORN KITS:
Air horns are generally higher pitched than most train horns and typically require smaller air systems. Many of the air systems they come with are pre-plumbed and pre-wired making installation easier than larger train horn kits. If you are new to aftermarket horns or are on a tight budget, they are a great place to start.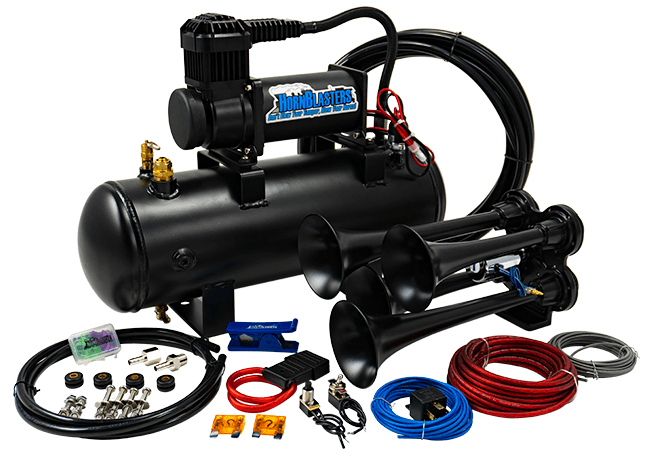 Sporting the same decibel levels as a small handgun, our aptly named Bullet 2MC literally gives you the most bang for your buck. Don't let the small size or price tag fool you, this little bombshell of a kit is even louder than some of our train horns! This four-chime chromed out horn outputs a sound that could be described as a car horn on steroids and comes with the valve pre-installed.
Our 2MC air system we paired it with is pre-plumbed and pre-wired, making installation much easier than in larger kits. With the small footprint of our 2MC air source unit, it is perfect for vehicles where install space is tight.
Some basic wiring knowledge and some simple hand tools are all that's required to get up and going, making the Bullet 2MC perfect for beginners. If you are wanting to replace your weak factory horn with something that sounds similar and is much louder, this is a simple and cost-effective way to do so.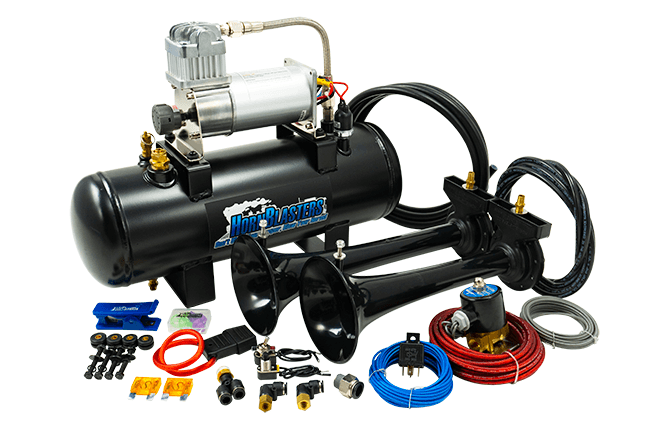 A wolf in sheep's clothing, our Rocker 228H Air Horn Kit features two out of the four bells from our classic Shocker XL Train Horns. While not technically classified as a train horn as they don't form the full US Train Horn Chord like the Shocker XL Train Horns, our Rocker bells still pack the same punch, making them the loudest air horns that we carry. As they are two separate fiberglass-reinforced ABS bells, our Rocker horns are incredibly easy to install in tight spaces. We've seen them installed everywhere from inside the front grille to underneath in the wheel wells.
As our smallest profile 2-gallon kit, our 228H Air Source Unit makes the perfect pair with our Rocker Air Horns. As with the 127H, our 228H Air Source unit is pre-wired, as well as pre-plummed, cutting down on install time and getting you back on the road faster. As our Rocker Air Horns require less air than traditional train horns, you can get up to 6 continuous seconds of honk time. If you are looking for the over-the-top volume of a train horn kit with an air horn kit price tag, our Rocker 228H Air Horn Kit is definitely the way to go.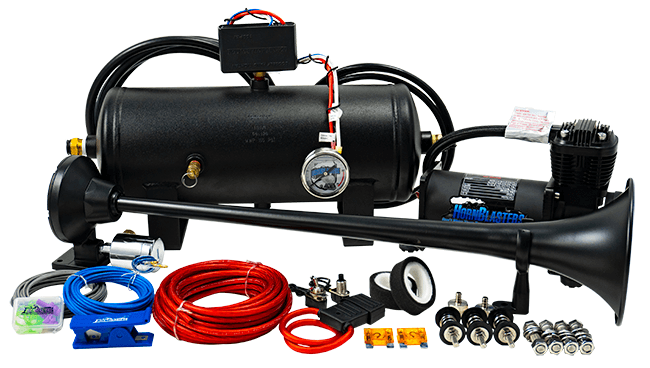 SAFETY HORN 232 AIR HORN KIT
A staff favorite around here at HornBlasters, Our Safety 232 Air Horn Kit is the air horn of choice as a complementary horn for train horn veteran's set-ups or as a beginner's stand-alone kit. With a sound closest to a fire truck, there are few air horns that can get someone out of your way faster. Aptly named the Safety, if you are just looking for a simple set-up to ensure distracted drivers pay attention when you need them to, this is the kit for you!
Our 232 Onboard Air System that we paired our Safety Air Horn with is our lowest cost exterior onboard air system, so if you are looking for the lowest cost way to install the entire system outside the vehicle, this is your best bet. Installation is a bit more involved than the 127H or the 228H as more wiring and plumbing is required than with our smaller systems but with all hardware included as well as detailed instructions, it can still be done by your Average Joe.
Once you start getting into kits 232 and up, your onboard air system will big enough to start being able to utilize it for uses other than just the horns. Our Safety 232 Air Horn Kit, for example, can be used for things such as topping off tires(make sure to pick up our Tire Inflation Kit) or filling up inflatables. While you would want a larger system for any heavy duty pneumatic projects, you won't find a higher quality air horn kit for around $500.
TOP 3 TRAIN HORN KITS:
There is no mistaking that legendary train horn sound. If you are looking to be as loud as you possibly can, you are going to want a train horn. Train horns are generally louder and lower in pitch than an air horn. Because train horns generally require more air, many of the onboard air systems we pair them with are heavy duty and can perform a variety of pneumatic tasks.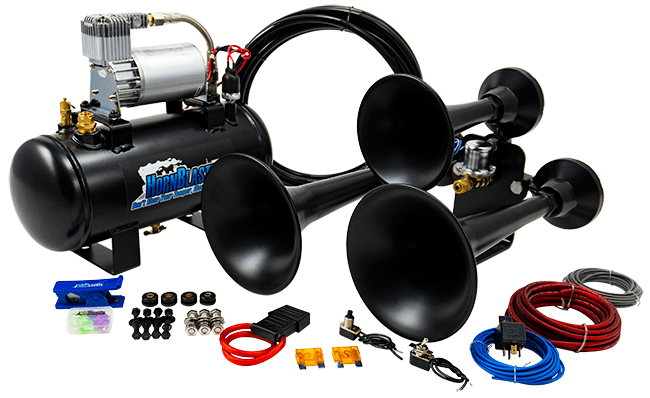 The go-to train horn kit for anyone on a budget, our Outlaw 127H Black Train Horn Kit is the lowest cost complete train horn kit that we carry. Don't let the price tag fool you, our Outlaw 127H Black has the 3rd loudest horn that we carry and is held to the same high-quality standards as our big budget kits. Three black metal horns come together on a manifold to give you an extremely loud train horn that looks as cool as it sounds.
Between the pre-installed solenoid valve for your horns and the pre-wired and pre-plumbed 127H Air System we paired with it, all the guesswork is done for you. Anyone new to train horns will love how easy it is to get such a massive sound and with a price tag of just under $500, you won't find a higher quality complete kit in its price range. With the Outlaw Black 127H Train Horn Kit's affordability, ease of installation and (most importantly) massive volume, it's no wonder it's everyone's favorite starter kit.
Hands down, our most popular train horn kit. Our Conductor's Special 244K Nightmare Edition Train Horn Kit gives you everything you would want in a train horn kit: Insanely loud horns and a workhorse constant duty onboard air system made with only the highest quality components all in a compact package.
Our Shocker XL Horns are four individual bells that can be mounted separately instead of being stuck on a big manifold, opening up a whole new world of possibilities when it comes to installing them. Constructed from an ultra-durable fiberglass-reinforced ABS composite with stainless-steel diaphragms and backed by a lifetime warranty against manufacturer defects, you get a train horn that is not only insanely loud but ridiculously durable as well.
Our 244K Nightmare Edition Onboard Air System powering the horns is equally as impressive. Made to do much more than just blow horns, our Conductor's Special 244K Nightmare Edition Train Horn Kit is a constant-duty system, able to handle most pneumatic task you can throw at it, such as air suspension and air tools. Of course, it's also great for powering our horns as well, able to blast our Shocker Horns for a solid 4-6 seconds continuously in their full ear-splitting glory.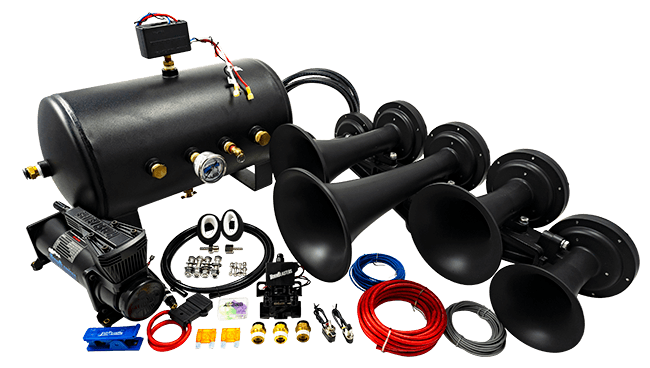 The most common question we are always asked is "What's your very best train horn kit?". Well, you don't get better than the real thing and that's exactly what our Nathan Airchime K5LA 544K Train Horn Kit is: An authentic train horn straight off of a real locomotive, powered by our most powerful onboard air system to date.
There is just no substitute for the look, feel and raw power of an authentic train horn. Our Nathan Airchime K5LA 544K Train Horn Kit brings you a classic train horn tone that dates all the way back to the 1950s and is still the most widely used locomotive horn in America. Ever roll your window down at a railroad stop? That's exactly what Nathan Airchime K5LA 544K Train Horn Kit brings to your ride. A train horn that you can not only hear but feel.
A train horn of such epic proportions demands an onboard air system that can keep up. That's why we bundled our Nathan Airchime K5LA Train Horns with our overpowered HornAir 544K Onboard Air System. Sporting our new heavy-duty 1NM air compressor, our Nathan Airchime K5LA 544K gives you best of both worlds: The performance of a 100% constant duty (all the way up to 200 PSI) system with the speed of a fast-fill system.
You may think that with such a large and high-quality system that installation must be a nightmare, but as with all of our complete kits, we provide all of the parts you could possibly need as well as detailed instructions. All you need is a few hand tools and some very basic wiring knowledge to do it all by yourself. Of course, every kit also comes with lifetime technical support, so we are always there should you have any questions.
While these six horn kits are our some of our most popular kits, we have tons of other options when it comes to horns kits. Feel free to call, email, chat or text us for assistance 9-6 Eastern on weekdays
WE STAND BEHIND EVERYTHING WE SELL. ALL KITS INCLUDE LIFETIME SUPPORT
---