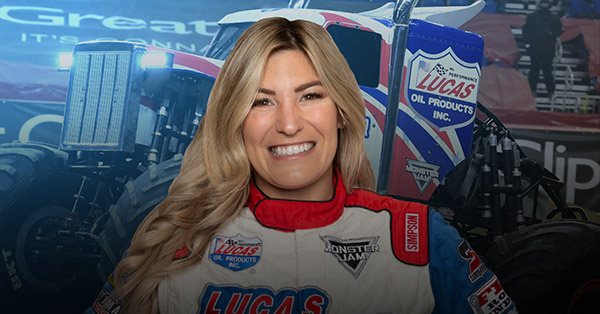 CYNTHIA GAUTHIER & THE LUCAS STABILIZER
Cynthia Gauthier is a former professional motocross rider from Quebec, Canada, who has always been drawn to extreme sports. Her natural talent and fierce determination quickly made her a standout driver in the world of Monster Jam, where she has become a rising star in the community. With a passion for thrilling fans and pushing the limits of what's possible, Cynthia has captivated audiences with her fearless driving style and impressive performances.
In this blog, we will take a closer look at Cynthia's journey as a Monster Jam driver and explore how she has become one of the most exciting and respected drivers in the community. From her early days in motocross to her rise as a Monster Jam star, we'll examine the key moments and achievements that have shaped her career. Additionally, we'll delve into the details of the HornBlasters Conductor's Special 244K train horn kit and how it has played a role in enhancing Cynthia's already exceptional performances in the Lucas Oil Monster Jam truck.
Cynthia's passion for extreme sports has been a driving force in her life for as long as she can remember. After achieving success as a professional motocross rider, Cynthia turned her sights to Monster Jam driving in 2015. Her natural talent and fierce dedication to the sport quickly caught the attention of fans and fellow drivers alike. In 2018, Cynthia was awarded the prestigious title of Monster Jam Rising Star of the Year, a testament to her exceptional skills and relentless drive to succeed. Cynthia's impressive performance in the Monster Jam arena continued to grow, and she made history by winning the inaugural Monster Jam High Jump World Championship in 2019. Then in 2022, Cynthia added another accolade to her list of achievements by winning her first freestyle competition in Tampa, Florida.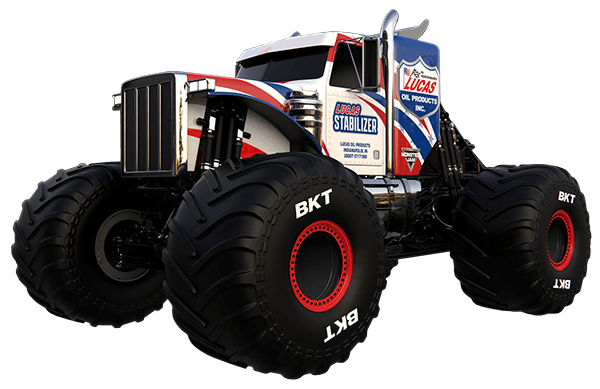 THE LUCAS STABILIZER & THE CONDUCTOR'S SPECIAL 244K TRAIN HORN KIT
Cynthia's Monster Jam truck, the Lucas Stabilizer, is a powerhouse machine designed to tackle even the most daunting obstacles with ease. The truck is equipped with an impressive engine and suspension system that can handle the extreme demands of Monster Jam driving.
The horn kit is a high-quality train horn system that has been customized specifically for the Lucas Stabilizer. It includes a manual train horn valve instead of the typical electric air valve that can handle the immense force of the truck's massive jumps and hard landings. This customization allows Cynthia to honk the horn at any time, adding an extra level of excitement to her already impressive performances. The kit produces a unique and powerful sound that cuts through the roar of the truck's engine, ensuring even at the trucks loudest the crowed can hear it's impressive tone.
Aside from the customized HornBlasters train horn kit, the Lucas Stabilizer also boasts an extremely cool SEMI body that sets it apart from other Monster Jam trucks. The truck's unique appearance, combined with its exceptional performance capabilities, makes it a fan favorite at every event.
Cynthia's truck is a testament to her passion and dedication to the sport of Monster Jam driving. Her and her team have created a machine that can deliver an unforgettable experience to fans. With the Conductor's Special 244K train horn kit and the Lucas Stabilizer, Cynthia's performances are taken to new heights, thrilling audiences with every jump, turn, and honk of the horn!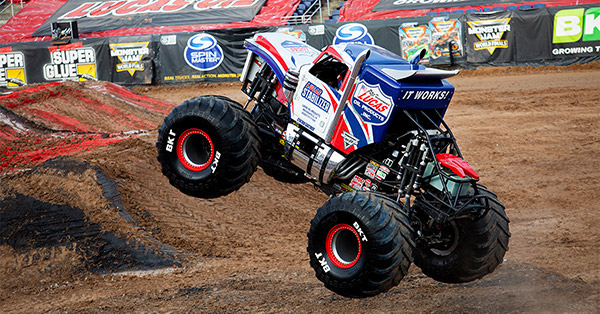 A MATCH MADE IN MONSTER JAM HEAVEN
The horn kit has become a integral part of Cynthia's performances. While Cynthia is already an unforgettable driver to watch, the horn adds an extra layer of excitement and energy to her performances, making her them even more thrilling to witness in action. The kit is not just an accessory for Cynthia's Lucas Stabilizer; it's an essential tool that helps her deliver a exhilarating performance for fans.
We at HornBlasters are thrilled to have worked with Cynthia Gauthier and the Lucas Stabilizer. It's been an honor to collaborate with such a talented and passionate driver. We're glad that the Conductor's Special 244K train horn kit has helped enhance Cynthia's performances, and we look forward to continuing our partnership with her in the future!
If you're a fan of Cynthia Gauthier and her incredible driving skills, be sure to follow her on social media to keep up with her latest performances and updates. You can find her on social media using the links below!
---