THE LARGER-THAN-LIFE TRAIN HORNS BEHIND SHAQ'S FAMOUS CUSTOM FISH TANK SEEN ON TANKED!  
If you have been lucky enough to catch the Season 8 Premier of Tanked, you might have noticed that the custom fish tank that was made for NBA Superstar Shaquille O'Neal had a set of horns that were very familiar. Of course, Shaq is known for wanting only the biggest and the best, so Acrylic Tank Manufacturing had no choice but to go with a set of Hornblasters Shocker XL Train Horns for his custom fish tank!
If there was ever an expert on all things large, it would have to be four-time NBA Championship winner, Shaquille O'Neal who stands at a towering seven feet tall. As one of the largest NBA players to ever step on the court, Shaq is no stranger to all things big. Shaq's large stature means that almost everything he owns is custom made. His clothes, his rides, even his bed needs to be Shaq-sized. When it came time to custom build a fish tank for the big man, Brett Raymer and Wayde King from Acrylic Tank Manufacturing wanted the tank to represent all the things that make Shaq the household name that he is.
As one of the best and largest centers in the league, Shaq has earned quite a few nicknames on the court such as "The Diesel", "Shaq Fu", "The Big Daddy", "Superman", "The Big Agave", "The Big Cactus", "The Big Shaqtus", and "The Big Galactus". The most prominent of these nicknames, "The Diesel" and "Superman" take center stage on Shaq's fish tank build with the tank being surrounded by the front-end of a diesel truck with a big Superman logo displayed inside the tank.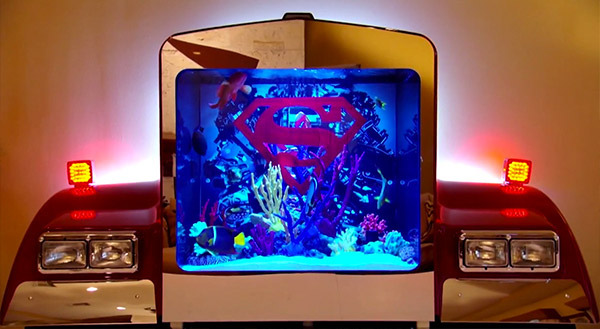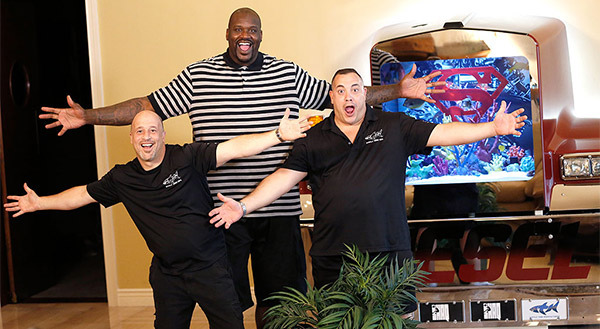 A monument to the unyielding momentum Shaq has on the court, this truck-sized fish tank sits right at home in his 31,000 square foot mansion in Orlando (not too far from HornBlasters Headquarters). Tanked wanted Shaq's custom fish tank to feel as massive as the house and the man himself, completely custom fabricating a classic 18-wheeler front end that completely takes over the area where his entertainment center used to be and engulfing the fish tank itself.
In fact, Shaq's fish tank was so big, the guys at Acrylic Tank Manufacturing had a hard time getting it over to Shaq's house! Brett and Wayde had the tank assembled at their shop, but when their original transport truck failed to show up, they had to improvise and rent a smaller U-Haul. Unfortunately, the U-Hall was too small to house the tank assembled, so it had to be disassembled, shipped and then re-assembled at Shaq's house, pushing back their timetables significantly. Luckily, they were able to finish the tank in time.
Of course, if you want to really sell the idea of a huge truck in your living room, you better have a pretty sweet set of horns to go with it. Good thing the guys over at Acrylic Tank Manufacturing know their horns. The last thing you would want to see on the show is this impressive work of art with a wimpy horn. That's why they decided to go with our Shocker XL Train horns. When you want the loudest horn possible, you go with HornBlasters and that's exactly what they did.
Call us biased, but our Shocker XL Train Horns were perfect for Shaq's fish tank. These horns are the loudest train horns you can buy other than the authentic locomotive horns (we carry those too), like the Nathan AirChime K5LA Train Horns. While we can all agree that it would be awesome to have real locomotive horns on that tank, the huge die-cast metal bells and manifold of something like the Nathan AirChimes would have distracted from the diesel truck feel and make an already large tank even more of a logistical nightmare.
On top of that, actual locomotive horns require about twice the amount of air that our Shocker XL Train Horns do. With your typical locomotive horn, you get about one second of blast time per gallon of air. With our Shocker XL Train Horns, however, you get about two seconds of blast time per gallon of air. Now, we get it. The horns are there as a gag and Shaq probably isn't going to be setting off train horns inside his living room anytime soon (poor fish), but just like everything else on this beautiful tank, every detail has been thought of. Even for just the few times that the big man might use the horns to SHOCK his friends, the most efficient horns means a smaller air tank is required and less time that the compressor is on making noise. You can definitely tell the guys over at Tanked put a lot of thought and love into this fish tank build, even down to the horns!
Much like Shaq's tank, if you need a larger-than-life sound, but are limited on install space, our Shocker XL Train Horns can't be beaten. Hand-tuned to the US Train Horn Chord and with only a 1.7 dB difference in volume between our Shocker XL and the authentic locomotive horns, they are as close to the real deal that you can possibly get. Constructed from a fiberglass-reinforced ABS composite, these four individual lightweight bells are incredibly easy to install and cost a fraction of what an authentic train horn costs. It's no wonder they have been the go-to horns for thousands of our customer's trucks and cars of all shapes and sizes over the years.
---