WRANGO HORN KIT A JEEP JKU BOLT-ON SOLUTION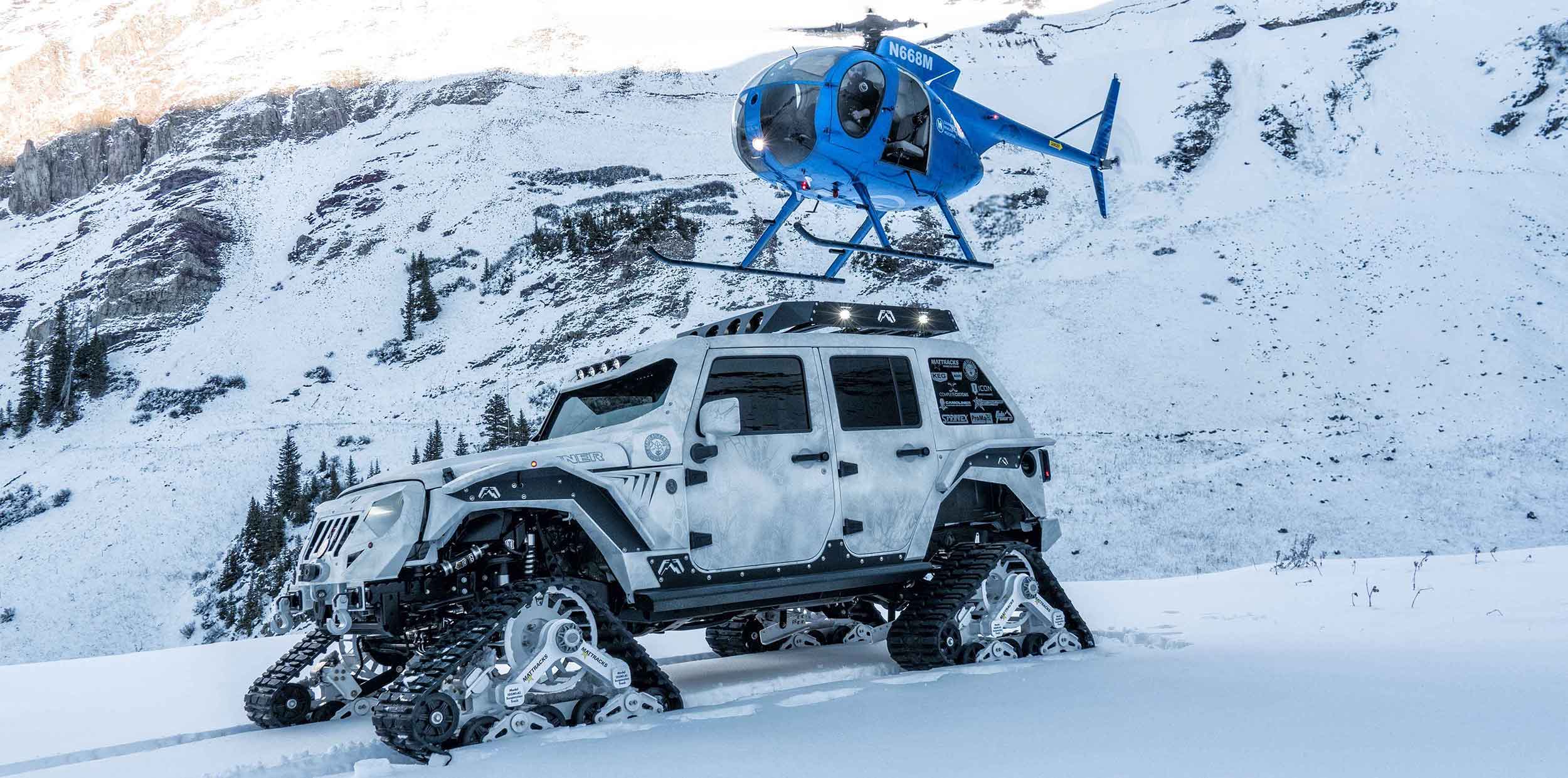 A LOOK AT THE DESIGN PROCESS, FEATURES, & CAPABILITIES OF OUR BRAND NEW WRANGO JKU HORN KIT FOR 4-DOOR JKU JEEPS!
For most of our history, we have taken a lot of pride in the fact that our kits are universal and can be installed on almost any vehicle. We do this to make sure everyone can upgrade their stock horn, no matter how big or small your ride is. As large as our selection has become over the years, it can be confusing and a little frustrating to have so many choices. While most of our kits will fit most vehicles, some kits fit some vehicles better than others and customers still want to know what kit works best for their ride.
This is especially true for Jeep owners. Jeep owners love modifying their ride, yet the way Jeeps are built don't really leave a ton of room to install aftermarket parts such as big train horn kits. So when it came time for us to make a vehicle-specific bolt-on solution for our horns, it only made sense to start with the incredibly popular JKU Jeep. If you are a Jeep owner, this is the kit you have been asking for!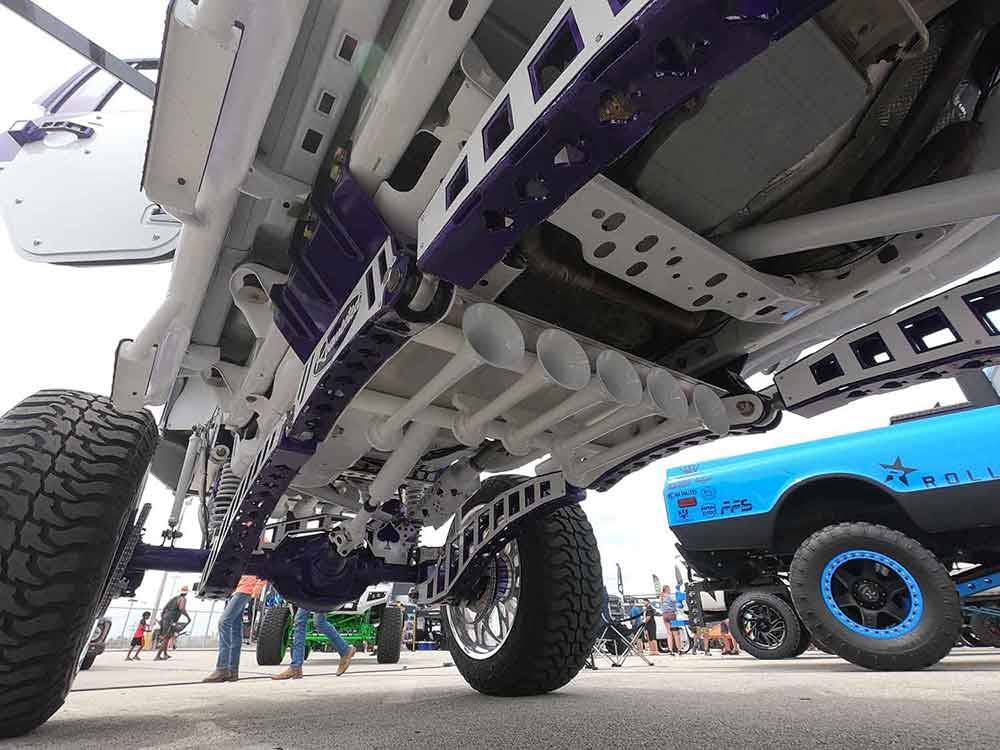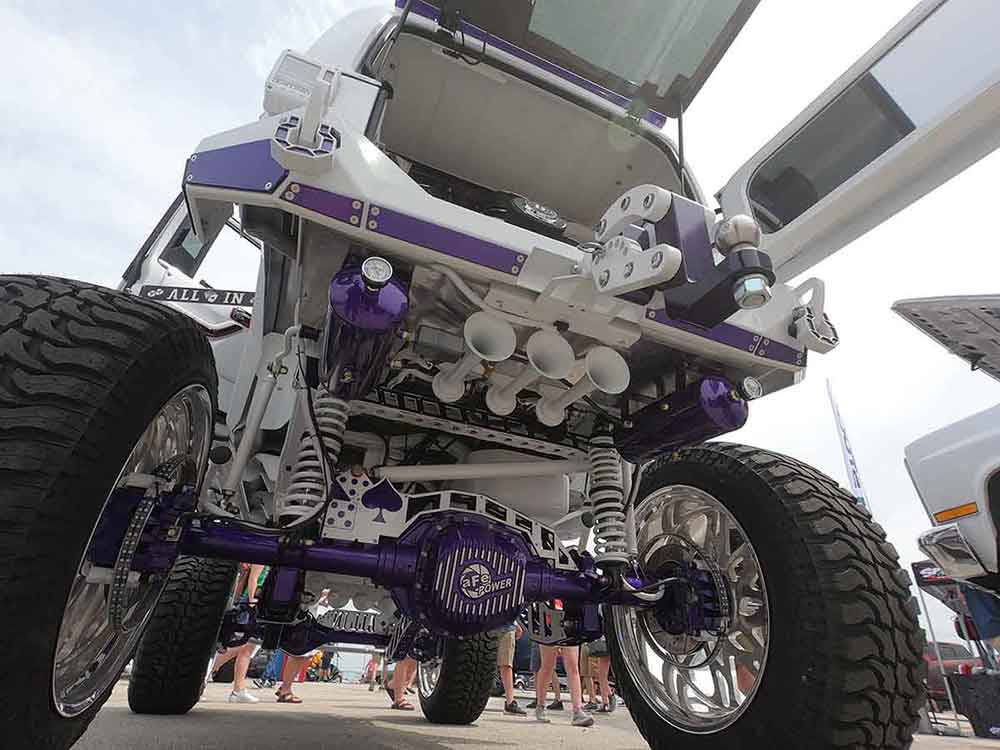 Of course, long before the Wrango JKU Horn Kit, Jeep owners were making due on their own and still installing HornBlasters Horns on their Jeeps any way they could. This had lead to some pretty creative and interesting installs, but the installation could be very time consuming and at times frustrating. It's no wonder that our Jeep customers were asking for a simple bolt-on solution.
Most customers wanting train horns on their Jeep were going with our Shocker or Rocker horns. They come as individual bells, unlike many of our other horns that come on a bulky manifold, they were much easier to fit in tight spaces and gave Jeep owners the ability to get a huge train horn sound on their ride without a ton of modification.
This made installing the actual horns much easier, but customers were still left with the problem of finding a spot for the rest of the system, such as the compressor and air tank. Our HornAir 127H and HornAir 228H Air Source Kits were great if you had the room in the interior for them. Unfortunately, these smaller kits are not enclosed systems, so if you needed the room in the cab and had to install the entire kit outside of your jeep, you had to go with a bigger kit. Our more creative customers could fit a Rocker 232 or a Conductor's Special 238A on the exterior of their Jeeps, but installation was still time-consuming and the location of the components was not always ideal, so we went to the drawing board to find a better way.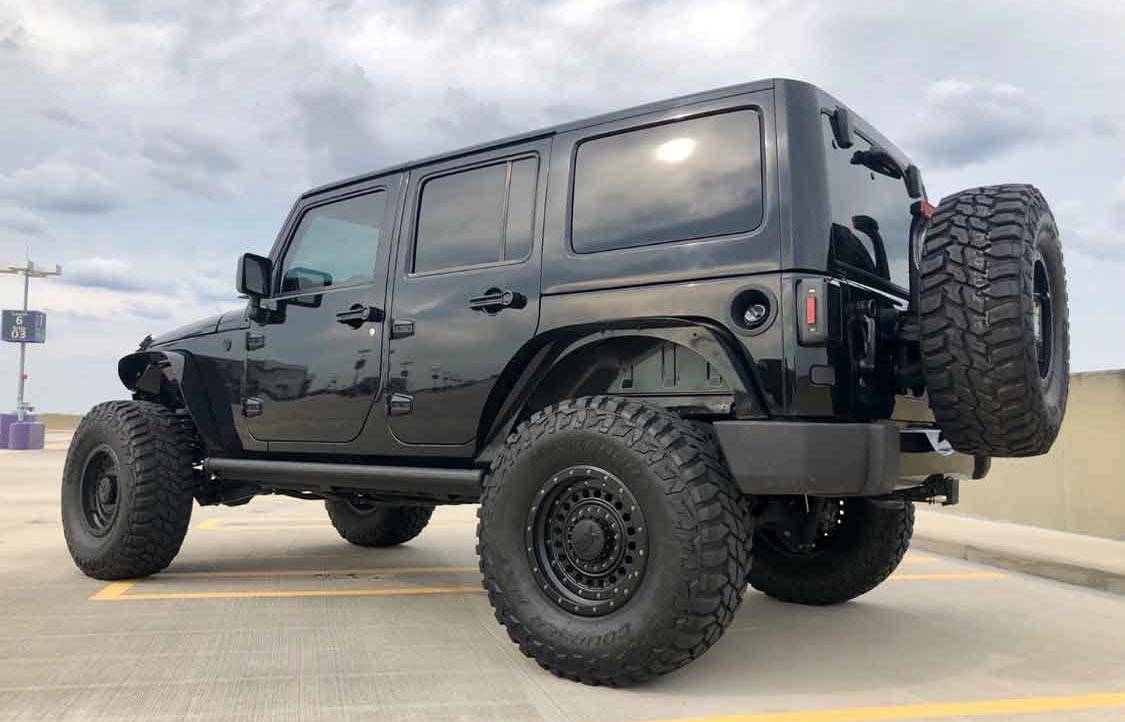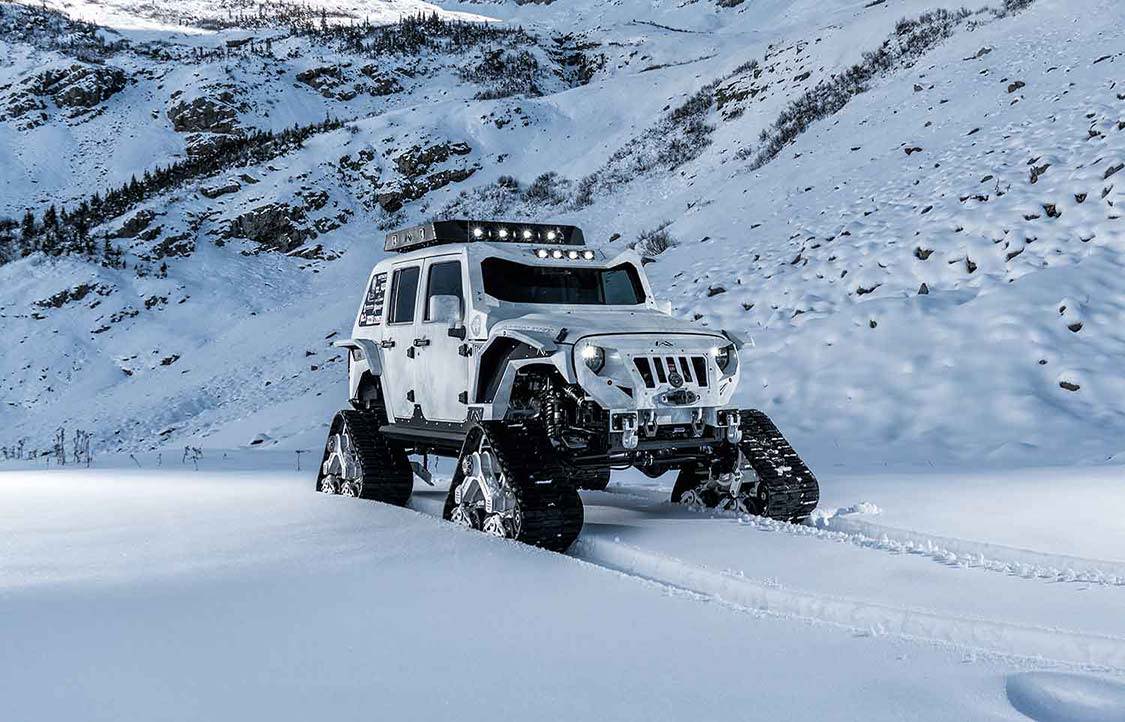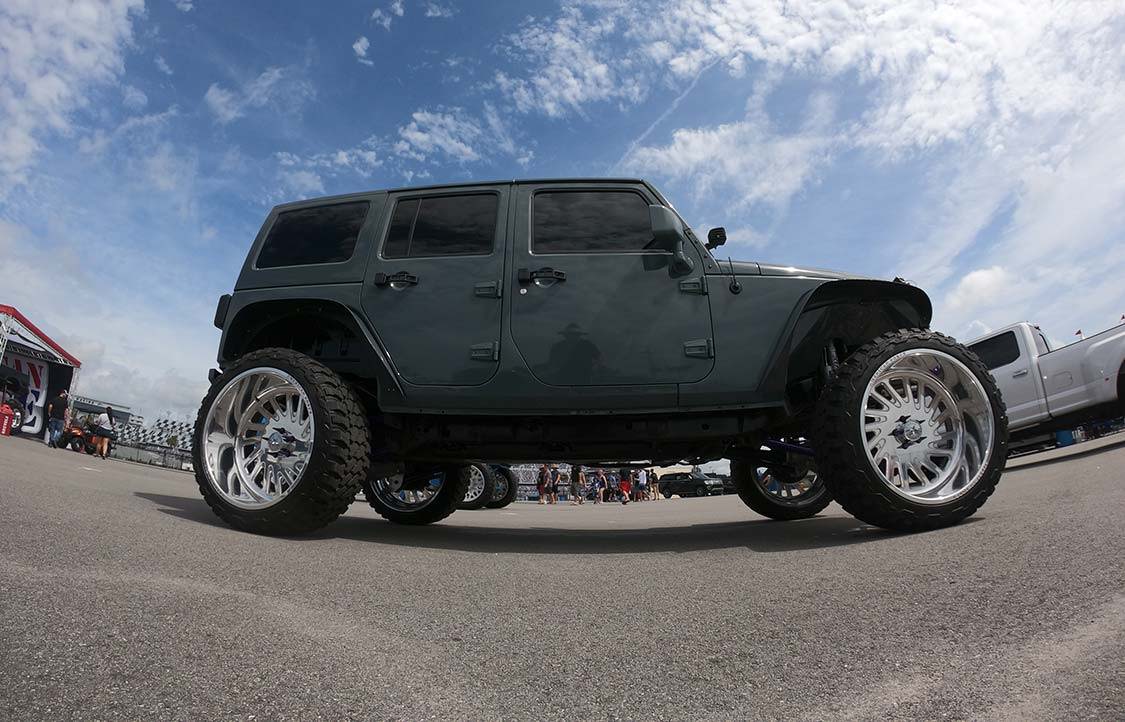 While we had narrowed down the best horns and the best air system that would fit, we knew that if we were going to make our first vehicle-specific kit, we had to do it right. We set out to find a plug-and-play solution that would not only take all of the guesswork out of the process but make the installation quick and simple. It was at that point that we knew it was time for our first bolt-on kit.
While we have always had complete kits available and have had experience with making installation brackets for them, such as our Spare Tire Delete Bracket, this would be the first time designing brackets custom made for a kit that was custom made for a specific vehicle. Long before we set out to make a Jeep-specific kit, there was a debate on where the best place to install our kits would be. We knew that in order for this kit to be done right, we needed to enlist the expertise of Jeep experts.
We got with a local Jeep customization shop to run some ideas by them and see what would be the optimal install location would be. We knew that we wanted the kit to be integrated into the natural design of the JKU. This meant utilizing the factory components to prevent you from having to do as much of your own drilling as possible. Through a process of trial and error, we finally discovered the perfect fit. The Wrango JKU Horn Kit would come as a three-piece bolt-on kit.

WRANGO HORN KIT (JEEP JKU V6 2007-2018)
For the horns, we went with our #2 and #3 Shocker XL Train Horn Bells mounted on each side of a specially made bracket along with the solenoid valve, custom made to fit between the evaporation canister and the frame. The Viair 380C Compressor for the kit was a little trickier. Anyone that has installed our kits before knows that in order to get the most out of your compressor, you want to make sure that it is installed upright. That can be a lot easier said than done at times. We created an "L" shaped bracket attaches to the transfer case using pre-existing holes on the transfer case and three provided hex bolts.
The only component left to fit was the tank. As our 2-gallon Air Tank already comes with feet, mounting the tank directly to the vehicle could be done without the need of an additional mounting bracket. As the largest component that needed to be installed, the best place that we found to install was above the rear axle, right below the cargo area of the Jeep.
The end result is one of the most low-profile horn kits that we have ever produced. Utilizing the factory components into the install makes the kit almost an extension of the Jeep itself as if our kit came stock straight from the factory. This has the added benefit of making the kit extremely low profile. Unless you know what you are looking for, the only way for someone to know you have an air horn kit on your Jeep is to give them a good surprise with a blast from the horns!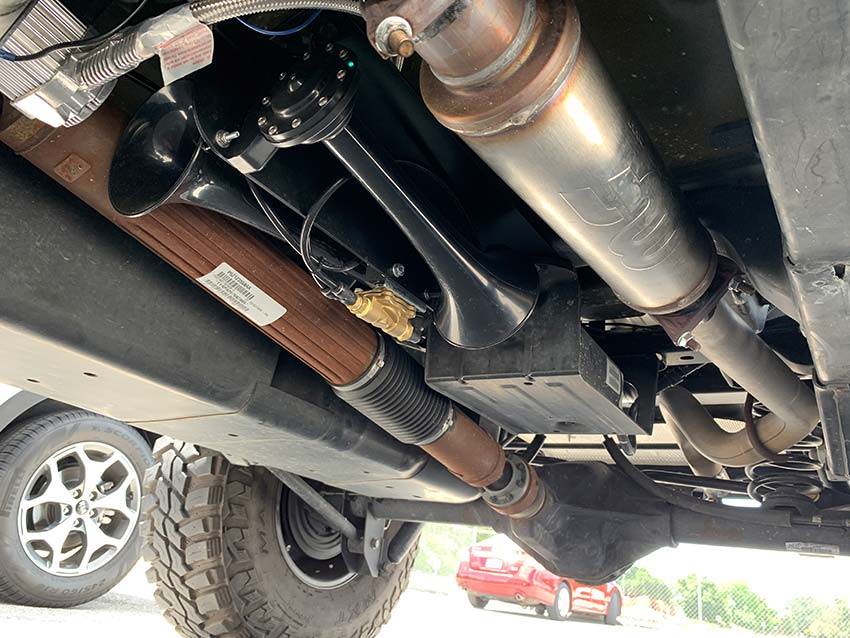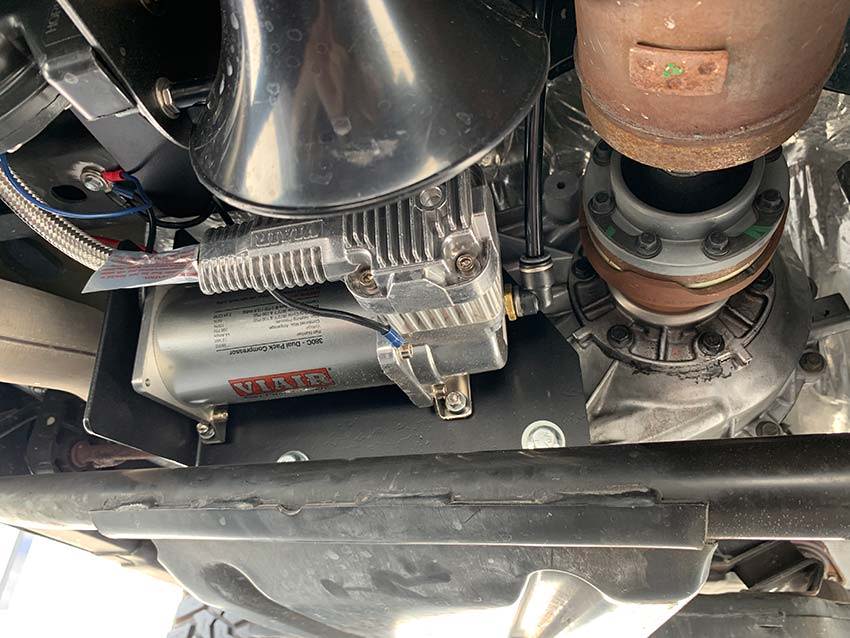 Having a kit that fits your ride perfectly is great, but in order to truly have a vehicle-specific kit, you want to understand why someone drives that vehicle and what someone with onboard air on that vehicle would typically use their system for. We knew that Jeep owners would want to do more with their kit than just honking horns.
One of the best things about owning a Jeep is being able to take them off-road. Part of taking your Jeep off-road is airing up or down the tires, depending on your terrain. Our Wrango JKU Horn Kit has the ability to add air source relocation and tire inflation because a Jeep kit without access to onboard air is no Jeep kit at all. Not just for airing tires, our tire inflation kit option can be used for all kind of inflatables, such as rafts and kid's toys.
Our HornAir 238A Onboard Air System for our Wrango JKU kit has many uses as well. Aside from tire inflation, you can even use your system with air tools if needed. While some might see this kit and think it a fun toy to scare people with (it is), Jeep owners know it's much more than that. With the extra utility that our Wrango JKU kit brings to the table, it almost becomes a necessity for any Jeep owner planning to go off the beaten path.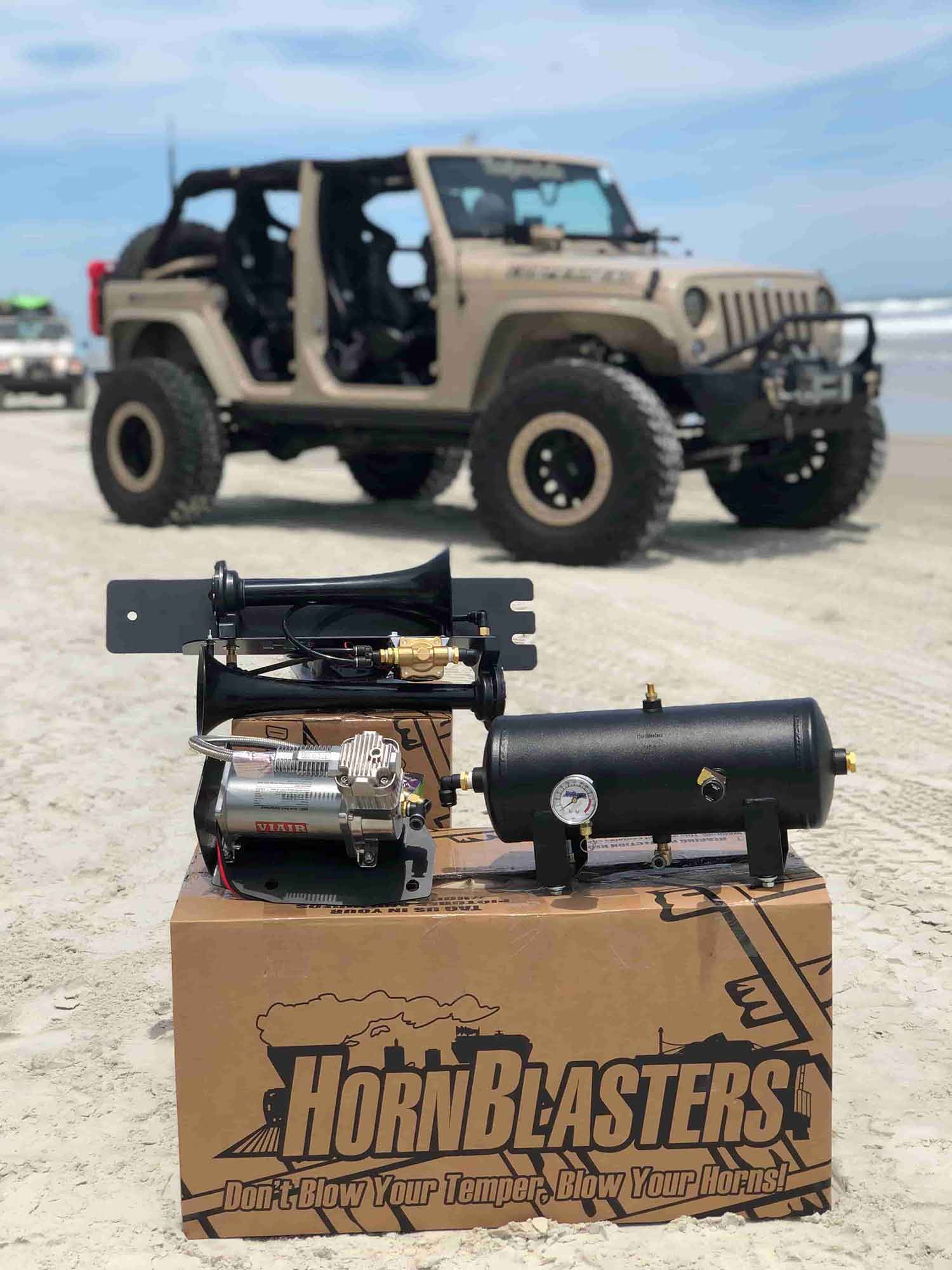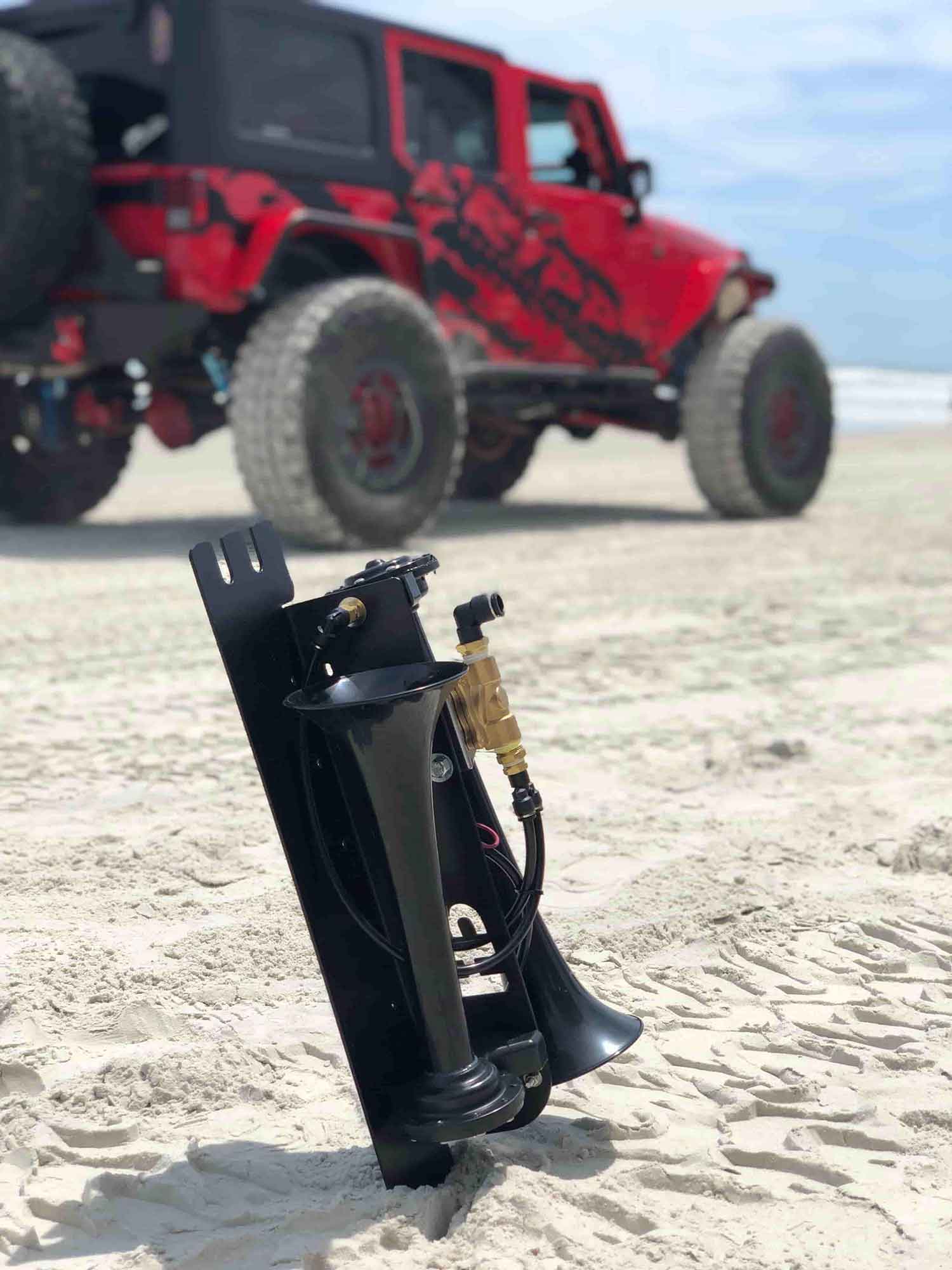 As a Jeep JKU owner, this is the last horn kit you will ever need. We made sure to pack as much power and volume into this bolt-on solution as possible. When you get the Wrango JKU Air Horn Kit, you know that you are not only getting the loudest horns you can buy in a bolt-on package, but you are also getting a formidable onboard air system that can get you out of a tight pinch.
For non-Jeep owners, the Wrango JKU sets the standard of what a bolt-on kit should be and an indication of what is to come from HornBlasters in the future. While we still stick to our roots of designing universal kits that fit all types of vehicles, we continue to research and design new ways to ensure you spend less time under your vehicle installing and more time our on the road honking!
---