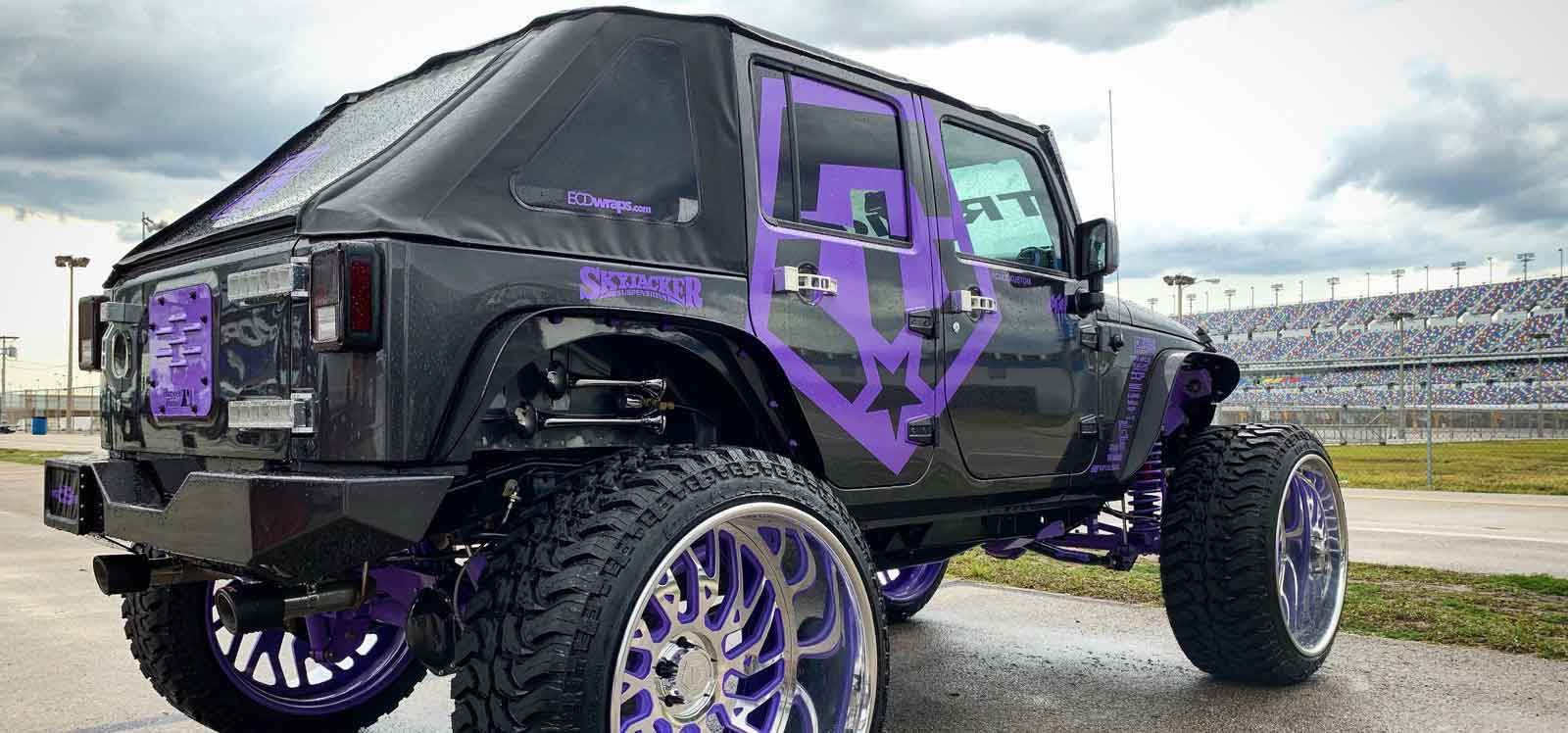 ELECTRIC HORNS - COST EFFECTIVE STOCK HORN REPLACEMENTS!
Are you sick and tired of your factory horn? How could you not be? With as many distractions that are on the road today, most factory horns simply do not do the job they were made to do. Some factory horns are even harder to hear over your engine! When a split-second decision could make all the difference in the world, you need a horn that will make other drivers aware of your presence.
"DO I NEED A BIG TRAIN HORN & AIR SYSTEM TO BE LOUD?"
Not at all! It's true that our loudest horns require an onboard air system, but if you are just wanting a simple, cost-effective way to be loud you have quite a few options that don't require a complete horn kit. Here are some tank-less solutions to make sure that you are heard.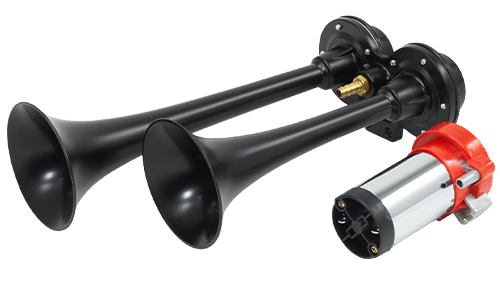 PSYCHOBLASTERS V2 ELECTRIC HORN KIT - $69.99
Our Psychoblasters V2 Horn Kit may have people looking at you like you're crazy, but at least they'll be looking at you! Twin chrome horns powered by a direct-drive compressor gives you a sound very similar to your stock car horn but at least 20dB louder. You can either set up your Psychoblasters V2 to take the place of your stock horn or have it as an auxiliary horn to use in emergencies. Our Psychoblasters V2 Horn comes in either Chrome if you want to show it off or Nightmare Black if you need to be stealthy.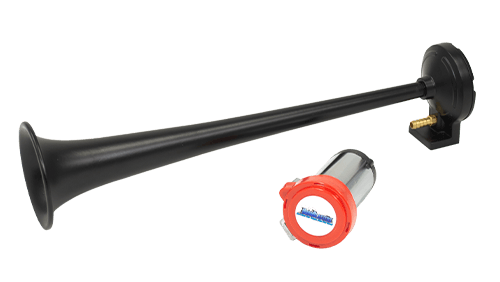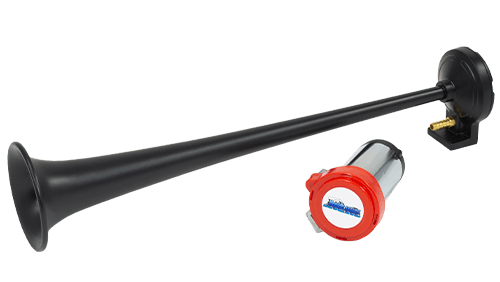 MUSKET/NINJA ELECTRIC AIR HORNS - $59.99
Loud, simple and to the point, our Musket and Ninja Horns give you the volume that you need without complicating things. Both the Musket and the Ninja are long single-bell horns powered by a direct-drive compressor. The Musket has a deeper tone than the Ninja as it has a slightly longer shaft, but they are both incredibly loud for an electric horn and it really comes down to personal taste on which one is better. If you are looking for a horn that looks as intimidating as it sounds, our Musket and Ninja horns are always a solid choice.

DUAL-TONE MOTORCYCLE ELECTRIC AIR HORN

Standard - $39.99  Chrome No Cover - $44.99  Chrome - $49.99
Our Stebel Motorcycle Horn is hands down, the easiest way to replace your stock horn. While they are designed for motorcycles, these compact horns are a great upgrade to any vehicle's stock horn. With the way the roads are out there, having a horn you can actually hear above all the other noise is more important than ever. We have plenty of insanely loud horns, but if you are looking for a cost-effective and simple set-up to double the volume of your stock horn, this is the horn you want. Our Stebel Motorcycle Horn comes in three different finishes: Stock (Black), Chrome No- Cover, and Chrome.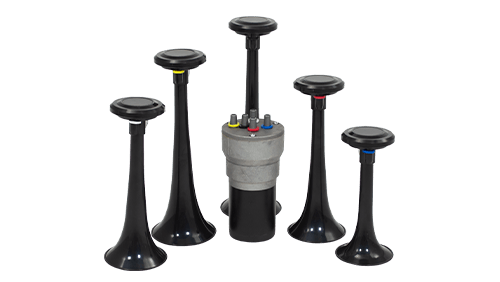 Sure, ear-piercing horns are a lot of fun, but sometimes you need a little bit of melody. With our Dixie Musical Air Horn System, you get five individual bells programmed to sing everyone's favorite song of the south. Our Dixie Musical Air Horn System is powered by a compact direct-drive and valve system that automatically whistles Dixie for you at the touch of a button. Set-up is incredibly simple, with detailed instructions and a color-coded system for ease of use.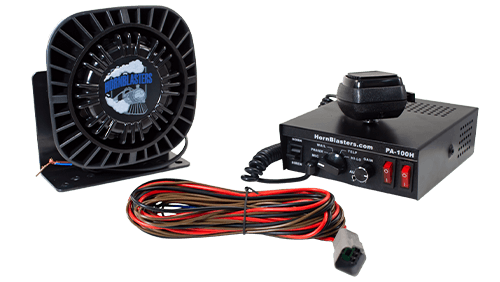 Just as fun as it is loud, our 100 Watt Public Address is perfect for anyone that doesn't want to settle for just one horn sound or as a great addition to your current horn set-up. With dozens of different alarms and noises, you will always have the right obnoxious sound for every occasion. If any of the preset sounds don't get your point across, hop on the built-in CB to tell people how you really feel. Our 100 Watt Public Address also features an aux-in port so you can blast your music for the neighborhood to hear.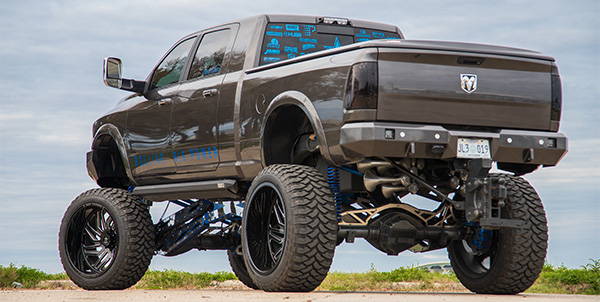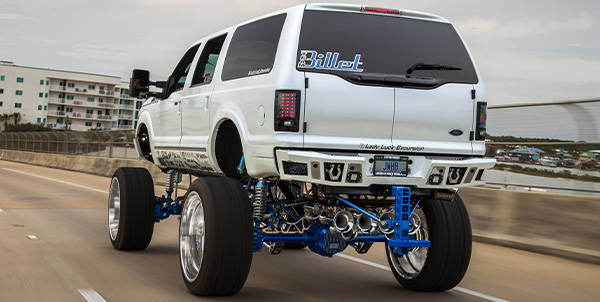 WHY BE STUCK WITH A BORING, WIMPY, STOCK HORN?!
With so many different sounds to choose from, many under the $100 dollar mark, there is no better time to upgrade your default horn. Sure, they aren't going to be quite as loud as a full-fledged train horns, but they will be at least double the volume of that stock horn you have and a lot more fun! When being heard on the road is a matter of safety, there is no excuse to have a horn that just can't do the job it was designed to. Toss out the stock horn and make sure you get a horn that ensures you are heard!
---